Two Birds Brewing's Jayne Lewis and Danielle Allen
Three years after hitting the craft beer scene,Two Birds Brewing has thrown open the doors of its new brewery and tasting room, The Nest, in Melbourne's inner-western suburb of Spotswood.
Two Birds Brewing is Australia's first female owned and operated brewing company, headed up by Jayne Lewis and Danielle Allen.
The Nest offers visitors a behind the scenes look at the brewing process, a chance to taste the range of rotating Two Birds beers brewed on site, and also take home brewery fresh beer in growlers and squealers.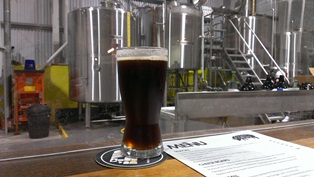 Inside 'The Nest' at thenew Two Birds Brewery
With a love of food and beer, the 'Birds' have teamed up with renowned chef Casey Wall and the foodies at Rockwell and Sons in Collingwood.
"For the longest time, Casey has been saying that when we opened our own brewery, he wanted to do the food. About six months ago, I called him and said 'It's time!' and here we are!" said Lewis.
"The menu will be food that makes drinking beer even more awesome. Outside of the aged cheeses, we're aiming to make everything from scratch," said Wall.
The Nest is located at 136 Hall Street Spotswood and is open to the public Thursday to Sunday.