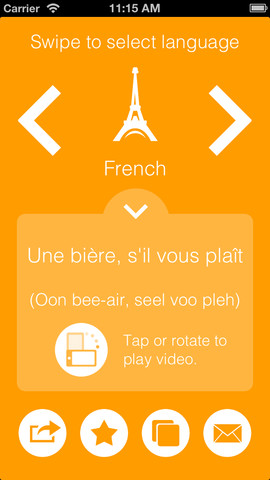 Ever experienced the horror of having to mime drinking a beer in a foreign country and been given water instead? Neither have we, but imagine the tears of frustration if you did.
Well, never fear as Pivo is the first app in the world that allows you to order a beer in 59 languages.
The idea was born after a fateful trip to Prague where the app's English inventors, Justin Amey and Ollie Hepworth, realised that neither of them could order a beer in Czech.
Not wanting others to suffer their predicament, the pair launched Pivo, which is appropriately named after the Czech name for beer.
The app isn't just a very short foreign language dictionary either, it features written phonetic instructions for how to order, as well as a short video tutorial for each language featuring a native speaker to teach the exact pronunciation. And apparently the rather enthusiastic Welsh tutor is a highlight that is not to be missed.
According to Amey, he and Hepworth were mortified to realised they couldn't order the Czech Republic's most famous export.
"We couldn't believe it when we landed in Prague and couldn't find the help we needed," he says. "We're really proud of Pivo, which we hope will prove invaluable to travellers this summer, whether they're heading off to exotic locations or holidaying closer to home. Whether it's a beer in Burma, an ale in Argentina or a lager in Latvia, Pivo really is a must-have for thirsty holidaymakers."
And with an amazing five star rating from73 reviews since the launch on June 13, it seems beer loving holiday makers have beer crying out for help.
To see a video of the app in action head to YouTube or the website for more information.