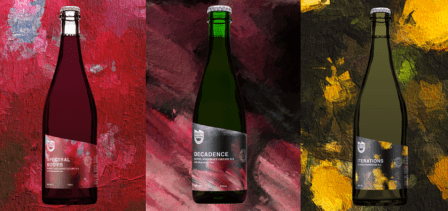 After nearly two and a half years in the making Melbourne's Deeds Brewing has this week unveiled the first three releases in their new Mixed Culture Series of barrel-aged beers.
The Glen Iris brewery's mixed culture program is headed up by senior brewer Ned Bowring who got the ball rolling on the new series back in late 2019 when they received their first ex-wine oak barrels.
In an online blog Ned said: "It's nearly three years since we started brewing at our home in Glen Iris, and while we may have become best known for our IPAs, barrel ageing has always been part of our plans. Mixed culture fermentation, with or without fruit, is a love of ours and we're excited to share these beers and expand this project. We've drawn inspiration from around the globe, from Lambic and Gueuze producers in and around Brussels, to more modern interpretations by American sour beer brewers."
The first release of the series is Spectral Bodies – a barrel-aged mixed culture beer with boysenberries (6.1%, 750ml). It's a three barrel blend of mixed culture beer that was aged in French oak for 12 months, then macerated on boysenberries for seven months. To balance it Deeds added a portion of oak-aged mixed culture beer and saison before packaging.
On Spectral Bodies, Ned said: "Barrels selected for this fruit blend were A21 (stone fruit aromatics, citric-like acidity), A23 (earthy, mustiness) and A32 (tobacco, leather, light lemon, barnyard/goat). We sized our fruiting tanks to fit 400kg of fruit and three barrels of beer. This allows us to fruit the beer at a very high rate, then back blend with additional beer to achieve the fruit intensity we're looking for. Barrels selected for back blending were A24 (barnyard/goat, light oxidation) and A27 (light caramel, delicate barnyard aromatics), as well as our Petite Saison to balance acidity."

Next is Iterations – a Bière de Coupage/blended farmhouse ale (4.0%, 750ml) primarily comprised of Deeds' Petite Saison, which is heavily hopped with Motueka, Saaz, Wakatu and Wai-iti. Before packaging, a portion of oak-aged mixed culture beer is blended in and its dry hopped with Motueka and Belma.
"We have taken our Petite Saison and blended it with a barrel of mature mixed culture ale, to reach a proportion of 80% fresh and 20% mature beer. We then dry hopped heavily with Motueka and Belma for 7 days before bottle conditioning to a high level of carbonation. The result is a very dry table strength beer, with a firm bitterness and refreshing acidity. The Brettanomyces and lactic fermentation of the mature beer adds a layer of complexity that allows the drinker to delve further into the beer if they wish, but overall is designed to be enjoyed any time with friends."

The third release is Decadence (4.8%, 375ml) which is effectively the uncut version of Spectral Bodies and the seven month maceration period on boysenberries was at a rate of 570g per litre. Ned said they felt "the intense jammy goodness of the uncut version was worth sharing".
"Our first brews to start our mixed culture program went into oak late 2019. We waited patiently for these barrels to mature, to show signs that this golden liquid was ready to enter into its next phase of life. This day arrived 12 months later, as we selected some barrels that we thought would work well with boysenberries, supplied by our friends at The Berry Man."
Head here to find out more on Deeds' Mixed Culture Series.