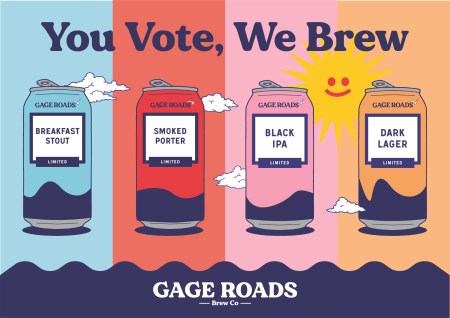 Gage Roads have launched their You Vote, We Brew competition where fans get to decide the brewery's next limited release beer and then one lucky winner gets to help brew it.
Voting is now open, with people able to choose one of four beer styles where the most popular will be brewed and released by Gage Roads as its Winter limited release, hitting fridges and pubs across the country from June.
Vote here: gageroads.com.au/you-vote-we-brew. Voting closes March 3 and results are announced March 12.
While fans will have the final say, the Gage Roads brew team put together the short list featuring a Breakfast Stout, a Smoked Porter, a Black IPA and a Dark Lager. Full details are below.
One lucky voter will also win the chance to join the Gage Roads team on brew day, to see the brewing process first-hand.
"The brew team have had a lot of fun, and some serious debate, with this. It all started with every member of the team putting forward a beer style or idea for our next limited release. We then had a popular vote to narrow it down to four beers. Now we have them, it's over to beer fans who will decide which beer we brew this Winter," head brewer Ross Brown said.
"At the end of the day, we brew beer for people to enjoy. I think it's great to have beer lovers decide what our Winter limited release will be.
"However, the brewers are already getting into the spirit of things and have switched into campaign mode to make sure their beer comes out on top."
Each beer is represented by the Gage Roads brew team member that nominated it, leading the brew from start to finish.
The four contenders
Breakfast Stout by Josh Masters: "It's a meal in a glass! It's a great style that has all the rich malt character that you love in a stout, with the addition of coffee and oats that lend a beautiful silky mouthfeel. Breakfast Stouts are one of my favourite beer styles, it's so complex and has so much to offer."
Smoked Porter by Samson Saggers: "This beer will take you straight to Winter camping, sitting around that campfire and having a few brews with your mates. You're going to get those roasted malt flavours of coffee, toffee and mocha, with a smooth body and a hint of creaminess."
Black IPA by Tim Bransby: "It's a new style and really a mixture of a caramel style Porter beer but with a heap of hops thrown at it. I love the nature of this style, I love dark beers and IPAs, so if I can have all of that in one glass, then why not. It's something that's different, left field but it works, so I love it."
Dark Lager by Ruaridh Atkins: "This beer is steeped in tradition and history with its roots going back five centuries to Munich, Germany. I love how balanced it is, it's not overwhelming, and you can enjoy a few of them."