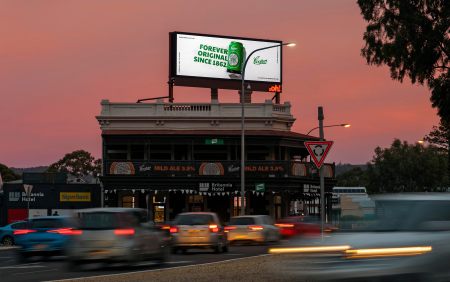 Coopers Brewery have unveiled a new strategic direction and brand positioning through their national out-of-home advertising campaign.
The new approach sees the South Australian brewery adopt the 'Forever Original' tagline in reference to its 19th century foundations and standing in Australia's craft beer industry. The campaign is the first work advertising agency The Royals have done for Coopers since winning their account last year.
The national launch predominantly highlights the brewery's beer cans along with headlines such as 'Forever Original since 1862', 'Always roll your own way' and 'Crafting since the 60s. 1862 to be exact'. A full switch-out of all POS across the country is also underway.
The move comes after Coopers said last year it had defied a COVID-19-induced downturn and recorded a 3.9 per cent rise in total beer sales for the 12 months to June 30, 2020, which was "underpinned by increased demand for its portfolio of cans".
Its before-tax profit for 2019/20 of $34.3 million was akin to the level recorded in the 2017/18 financial year, and a solid bounce back from the $23.1 million reported in 2018/19.
Prior to their Pale Ale's release in a can in 2018, sales of canned beer represented 5.3 per cent of Coopers' total sales. Thanks in large part to its and Sparkling Ale's availability in the format, that number has almost quadrupled in the space of two years to 20.2 per cent. From the 2018/19 financial year to the 2019/20 one, packaged Pale Ale allocation went from 31.4 million litres to 33.3 million, while Sparkling Ale rose from 8.7 million litres in pack to 9.8 million litres across the same period.
The Royals said the new brand positioning lays the groundwork for the main campaign to roll out throughout 2021 which aims to set Coopers up for continued growth and features new branding design, voice and customer experience.
Cam Pearce, director of marketing and innovation at Coopers said: "Since Coopers' foundation close to 160 years ago, we've been a brand of no imitations, no pretending, and above all else, a brand that always strives for authenticity. 'Forever Original' encapsulates this spirit perfectly and is a timeless reminder of our promise to drinkers."
Tom Donald, The Royals' Sydney head of strategy, added: "Coopers is a brand with a huge amount of history and a demonstrated commitment to originality, independence, and quality in everything they do. Once we arrived at 'Forever Original', it felt like the most natural fit in the world – here is a brand that has remained unswervingly true to itself for six generations. That's very rare in this country, and worth celebrating for years to come."