The Dainton Family Brewery's Cherrywood Smoked Baltic Porter was named Champion Australian Craft Beer at last week's Australian Craft Beer Awards at Adelaide Oval.
The Melbourne brewery also won the Champion Porter/Stout for the same beer, before being named as the overall winner later in the evening.
Other best-in-category award winners were:
Champion Pale Ale: Philter Brewing's XPA
Champion Amber Dark Ale: Eagle Brewing Company's Black IPA
Champion Wheat: Feral Brewing Co's Watermelon Warhead
Champion Specialty Beer: Rocks Brewing Co's Conviction Pale Ale
Champion Lager: Australian Beer Company's Yenda Crisp Lager
Champion IPA: Pirate Life's Mosaic IPA
Champion French & Belgian Styles: Black Font Brewhouse's Organic Saison de Ville
Dainton Family Brewing is situated near Frankston and has only been operating for a few years. Founder and head brewer Dan Dainton was understandably ecstatic about the win.
"Thank you very much to everyone again, we couldn't be here without the support from the industry. I'm really excited and to receive this is amazing," Dainton said upon accepting the award.
"Everyone in this room, if you know me or have had anything to do with me, you deserve a little bit of this and the industry deserves a little bit of it – we're all trying to make better beer, we're all trying to make something amazing.
"For me, it's all about making better beer for all of us, and if you can do that, you've done a good job."
Dainton described to Beer & Brewer his Champion beer, the Cherrywood Smoked Baltic Porter, as having a "really smooth, estery character but with an overriding cherry wood kind of flavour – it tastes like drinking a chocolate cigar."
When asked if he was surprised to win the award as a relatively young brewery, Dainton said: "We've been making beer for a year now but we've been gypsy brewing for a lot longer."
"Balter won an award in under a year, Pirate Life won an award in under a year – we're just under a year as well so it's great, we're definitely in good company."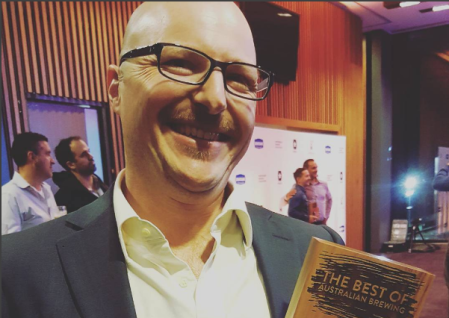 Dainton's beer had to beat a total of 682 beers from 118 breweries that were entered for judging in the fourth edition of the annual awards.
Three Champion Brewery awards were also presented on the night: Wheaty Brewing Corps, which operates out of the iconic Wheatsheaf hotel in Adelaide, was named Champion Brewery – Small; Fixation Brewing Co was named Champion Brewery – Medium and 4 Pines Brewing Co was named Champion Brewery – Large.
Blair Hayden, founder of the Lord Nelson Brewery Hotel, was awarded with the Service to Craft Beer gong, recognising the foundational role he has played in the Australian craft beer industry.
The Independent Brewers Association's executive director Chris McNamara said the winners represented a diverse range and wonderful cross-section of the craft industry, from the small to larger operations.
The awards night was the culmination of the industry's three-day conference and trade expo at the Adelaide Convention Centre, where Professor Charlie Bamforth was the keynote speaker.
For the full list of trophy and medal-winners from the 2017 Australian Craft Beer Awards, click here.