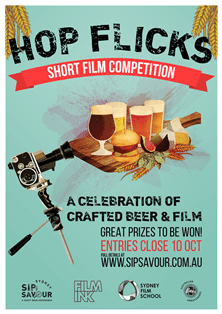 A short film competition Hop Flicks has launched, which will be part ofSip & Savour the craft beer event being held in Sydney on25-26 October.
The competition is open to filmmakers across Australia and is the brainchild of Australian Beer Ambassadors in partnership with Sydney Film School and FilmInk.
"Create a short film under five minutes long themed on the topic of 'craft beer' – that's the challenge we're offering," said Kieran Blood, director ofAustralian Beer Ambassador and co-director of Sip and Savour.
"Craft brewing is an artisanal trade and an industry that embraces social media, film and the arts with many breweries utilising film as a means of promotion and brand awareness. It seems appropriate to incorporate a short film competition within an event that celebrates everything craft beer and have it at the iconic arts hub Carriageworks."
All genres of film, including animation and experimental are welcome with industry judging organised by the Sydney Film School and Australian movie magazine, FilmInk.
"We are pleased to support the inaugural Hop Flicks short film competition and look forward to contributing to this unique brew of quality short films, paired with exceptionally crafted beer. This rare combination should bring out the best in both,' said Ben Ferris, artistic director at theSydney Film School.
The winning film will be the one judged to have best captured the very essence of craft beer and its meaning to the filmmaker. Entries will be screened throughout Sip & Savour with viewers invited to judge a 'People's Choice' award to be announced on the Sunday of the event.
The Sip & Savour festival and the screening of the Hop Flicks finalists will take place at Carriageworks, Eveleigh, in Sydney.
The closing date for short film submissions is 10 October. Information on how to enter the competition can be found here.