16 February 2011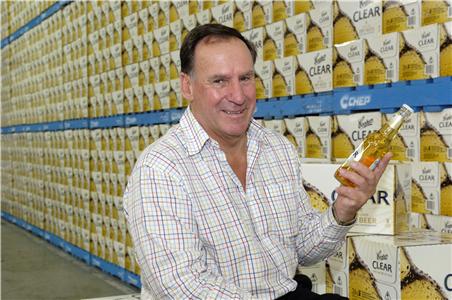 Coopers Brewery has reason to celebrate the one year anniversary of its full strength lager, Coopers Clear, with sales exceeding all expectations.
Coopers Clear continues to perform in the Australian beer market with December 2010 sales figures showing over 66,000 cases sold in one month.
Following Clear's entry into the market and the growing low carbohydrate category in January 2010, Coopers Clear has made a considerable impact on the market, competing against the likes of Pure Blonde, Carlton Dry and Hahn Super Dry. Coopers Clear secured a strong share of the category, with sales being particularly strong in its home state of South Australia.
Coopers Clear compliments the brewery's already successful range of Coopers' beers in the marketplace, being the company's third highest selling product behind Pale Ale and its iconic Sparkling Ale.
Coopers Brewery – Executive Chairman, Glenn Cooper says, "We have found that the low carb market is a completely different and individual category, separate from the traditional standard and premium beer classifications."
"Overall, 2009-10 was a record breaking year for Coopers Brewery, with beer sales reaching 62 million litres with Clear a significant contributor to this record volume," says Glenn.
Both trade and consumers have embraced Coopers Clear, with consumers showing brand loyalty in states outside of South Australia converting to continuous strong demand. Premium Beverages, Coopers' national distributor, has also played a major role in driving the high sales through strategic distribution interstate.
To support the brand in its first year on the market, Coopers secured a range of sponsorships that were associated to the Clear brand including the national sponsorship of the Paspaley Polo in the City series, the Masters Golf in Melbourne, the Good Food and Wine Show as well as various other events some including country race meets.
To celebrate Clear's one year anniversary the brewery launched the Coopers Clear Cut iPhone application and on-pack promotion that takes advantage of AR 3D Technology. Coopers is the first brewery in Australia to utilise the augmented reality technology with a nationwide promotion using diamonds as prizes.