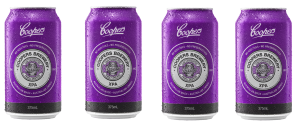 By Andy Young, The Shout
Coopers Brewery is set to release its new XPA (Extra Pale Ale) into a can format with plans to make it available to major liquor outlets across Australia by mid-August.
The move comes after XPA's successful on-premise launch recently. The XPA was launched in kegs and attracted a strong response from consumers at the Great Australasian Beer Spectapular (GABS) in May and this was followed by an on-premise rollout in hotels through June.
Coopers' marketing and innovation director Cam Pearce said it was the positive consumer response that helped the brewery make the decision to go ahead with the can format: the XPA will not be available in bottles.
"The decision to only release XPA in cans reflects increasing consumer preference for this form of container," Pearce said
"Coopers already offers Coopers Original Pale Ale, Session Ale and Mild Ale in cans, along with its lager beers Coopers Premium Lager and Coopers Premium Light.
"We are currently considering further expansion to this range."
XPA will be sold in distinctive purple 375ml cans with first shipments leaving the Regency Park brewery in early August.
XPA is a beer style that is becoming increasingly popular with Australian consumers and sits between an American Pale Ale and India Pale Ale. Coopers uses the American hops Simcoe and Lemondrop during the brewing process, and the brewery says this provides "bright citrus undertones with aromas of grapefruit, lemon and a hint of mandarin". The beer has an ABV of 5.2 per cent and 37 international bitterness units.