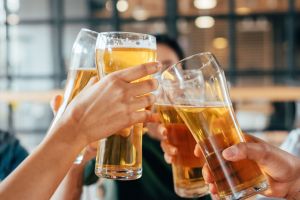 By Andy Young, The Shout
Leading independent branded business valuation and strategy consultancy, Brand Finance, has produced its 'Beers 25 2019' report, which details the world's strongest and most valuable beer brands.
The valuable brands list is compiled using what Brand Finance calls its 'Royalty Relief approach', which involves estimating the likely future sales that are attributable to a brand and calculating a royalty rate that would be charged for the use of that brand. The overall brand value also includes a brand strength index and estimated brand revenues.
The list sees AB InBev flex its muscles with its portfolio dominating the list with 11 brands in the top 25. That includes the two most valuable beer brands in Budweiser at number one and Bud Light at number two.
This is a swap between the two brands from last year with the last 12 months seeing Budweiser's value grow by 6.2 per cent to $7519m, while Bud Light's value has fallen by 5.4 per cent to $6976m. Brand Finance puts the rise in Budweiser's value down to the "immense success of its global sponsorship campaign of the 2018 FIFA World Cup".
The report adds: "The campaign, the brand's most expensive to date, reached 3.2 billion football fans globally, facilitating accelerated growth in new markets including South Africa, Colombia, China and Australia."
The 10 most valuable beer brands:
Budweiser – $7519m
Bud Light – $6976m
Heineken – $6766m
Harbin – $5180m
Kirin – $4048m
Corona Extra – $4006m
Snow – $3666m
Brahma – $3637m
Skol – $3426m
Guinness – $2884m
The three Asian beer brands in the top 10, Harbin, Kirin and Snow have all recorded huge growth over the last 12 months increasing in value by 46.4 per cent, 45.4 per cent and 51.8 per cent respectively.
Speaking about that growth, Brand Finance CEO, David Haigh said: ""As you can see across this year's ranking, it is the Asian, particularly Chinese, beer brands that are seeing the highest brand value growth. With demand for beer at an all-time high in China and predictions of inflated growth over the coming years as a result of greater disposable income from the emerging middle class, this trend looks set to continue. If these brands begin to expand beyond China and into new markets, we could potentially see some very stiff competition to established Western beer brands."
The report also said that Chinese brands recorded the fastest growth, stating: "China's Snow is the fastest-growing brand in this year's Brand Finance Beers 25 ranking and has broken into the top 10 for the first time, with an impressive 52 per cent rise in brand value to US$3.7bn.
"Snow is the best-selling beer in the world, clocking up 101.2 million hectolitres of beer sold per year, more than double that of Budweiser's sales. The brand, which historically has only been sold in China, has made a number of strategic partnerships in order to raise its global presence, notably with Dutch brewing giant Heineken and America's Molson Coors.
"Tsingtao (up 49 per cent to US$1.7bn) has jumped up 9 places in the ranking [from 25 to 16], more than any other brand. The brand continues to retain its loyal customer base in its home country and is also the most exported Chinese beer, sold in over 100 countries and regions globally. As with other Chinese brands, Tsingtao faces fierce competition from other global brewing giants but despite this, Tsingtao has recorded strong sales growth over the last year."
Scottish craft beer brand BrewDog, which is scheduled to open a brewery in Australia soon, is the highest new entrant in the top 25, ranking 19th with a brand value of $1.5bn. Brand Finance highlights the brewery as "one to watch".
The report said: "Now 11 years old, the brand is undertaking ambitious growth plans across key international markets, with new breweries and bars in the pipeline both at home in the UK and abroad. Its flagship beer, Punk IPA, is already the number one craft beer in the UK and the brand is striving to make it the beer of choice internationally.
"The brand is committed to expansion, with gin and vodka already in its portfolio, it is widening its reach further by entering into the whiskey market, in a bid to make it more playful. In 2018, BrewDog announced its foray into the hotels business, opening the doors to the world's first craft beer hotel, The DogHouse."