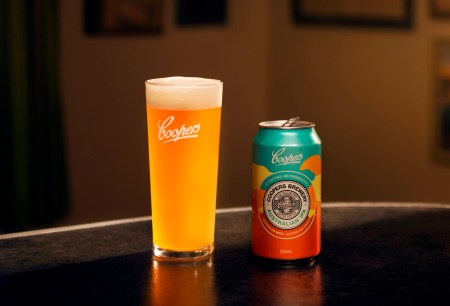 Coopers are releasing an Australian IPA later this month as they look to capture demand for a local version of the popular beer style.
Coopers Australian IPA, a limited release that will be available in kegs and 375ml cans, is the product of "many months of honing" managing director and chief brewer Dr Tim Cooper said.
"IPAs continue to grow in popularity among craft beer drinkers. Australians are also turning to local brands they know and trust. So while there is a large number of overseas styles in the market, we saw demand for a great tasting IPA with a distinct local touch.
"We're very mindful about when to bring out a new beer and an enormous amount of time goes into getting it right. We've come up with a great tasting Australian IPA that will suit any occasion."
Coopers said in a statement the 6.5%, 40 IBU beer uses a blend of Australian hops with "citrus notes of mandarin and orange as well as piney and passionfruit characteristics". They said this is what gives the release a point of difference against American IPAs.
"True to the IPA style and created on a foundation of Coopers pale malt, this Australian IPA delivers a full mouthfeel, while Coopers traditional form of ale brewing and natural conditioning maintains the beer's distinctive flavour."
Australian musician James Reyne is helping launch the beer by featuring in an upcoming creative campaign shot at the Silverton Hotel in Broken Hill – where parts of the original Mad Max film were shot – and performing at a series of trade events being held across the country in April.
"Australian beer goes hand in hand with live Australian music," James said. "As a long-time fan of Coopers beer I was happy to get on board with the Australian IPA, and it tastes great."