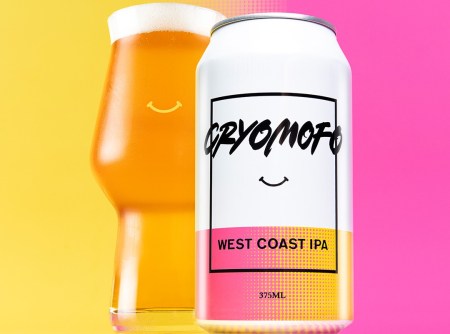 For an ex-concreter from Canberra with a proclivity for heavy metal Balter's head brewer Scotty Hargrave knows he's prone to using musical references too much when talking beer. But he can't help himself either and that was the case when riffing about the brewery's latest limited – the Cryomofo West Coast IPA (7.0%) that showcases Cryo Mosaic hops. It's a release he thinks is another example of Balter looking to the future of where beer trends are heading rather than where they sit.
"I've used Cryo in the past a bit like backing singers but for this beer I started asking myself 'can the backing singer be the headline act?' Used the right way I think it can.
"By no means is every beer of ours going to be a Cryo because that's what so special about it. For me, and again I apologise, it's a bit like when you decide to use the overdrive pedal or ramp your amp right up. If you do it on everything, and turn it up to 11 all the time, you're just going to get a mess.
"You've got to have light and shade and using something like Cryo is another way to get that."
Cryomofo delivers a mosaic of definable, cryo-charged elements that piece together to create a distinct whole that's truly the sum of its parts. It's astounding how so much complexity has been achieved in something so fleet of foot and crisp to the finish. It lacks the vegetal tones that can be prevalent in a beer so loaded with Mosaic but instead expels the tropical fruit, limey-citrus, bubblegum and candy notes the hop variety is famous for when reined in.
It might be a new release but Scotty said it's been over a year in the making which goes some way in explaining why Balter's legacy has stayed so strong. They aren't willing to diminish the hard work that has seen them achieve so much by riding the hype. But they aren't resting on their laurels either and there is real drive in this company to push the evolution of beer in Australia.
"I think we see it as our job to help to be part of that evolution," he said.
"If I had made this beer at 125 IBUs it wouldn't have been that smart. There would have been a few people that would applaud it. But it would alienate a lot of people and I don't think that's at all valid any more.
"There are so many more people in beer now and we can take them along with us. With a beer like this, I'd hope we could wean some of the hazy-only people who might be quite new to beer and say 'hey, the genesis of this beer is 20 or 30 years old and they're why we've all got jobs in beer'.
Nothing stands still and if you can use something like Cryo you may be just making a beer that is of its time or of tomorrow."
It's a similar view to the one he had when Balter were first getting the team together and he was trying to express why he felt his XPA recipe was the beer for the future Australian drinker.
"I'm not saying that specifically about Cryomofo, but I think it's an example of a very modern IPA. It's up-to-the-minute without being an overblown hazy that's just got more hops than everybody else.
"The guys in California, who were known for making those really aggressive IPAs and San Diego Pales, they've had to listen because it was just so unrelenting and hence why the East Coast thing arose I think – people just wanted something a bit more playful and a bit softer and rounder and genial.
But people still love West Coast IPAs and that's the same with us. But as we've had an evolution in beer, we've realised you can have a beer that has a striking bitterness to it and a really pleasing substantial mouth coating that just goes on for days but at the same time it doesn't have to be out-and-out brutal or deliver blunt force trauma. Pure force for the sake of it is not particularly interesting I don't feel."
Cryomofo is the first time they've shouted out that Cryo hops (it also uses Cryo Loral) have been used in one of their packaged beers but Scotty said last year's Dimples West Coast IPA release "had a smidgen of it but that beer was more about HBC 630 and the profile of that hop".
It's also the first release in a year-long, four part series where the Currumbin brewery will be running a West Coast versus East Coast IPA experiment of sorts. Certain hero hops will be taking centre stage alongside different malt and yeast profiles, to ask the consumer not only where their tastes preferably sit but also to potentially sway them from one coast to the other. Cryomofo's alter ego will be out in the Autumn before all-new hops will be showcased in a second duo of sibling rival IPAs in Spring.
"I started to think about creating a Jekyll and Hyde pair of beers. A good son, bad son set that were siblings in ways but polar opposites at the same time. They have some defining features and are of the same family tree but they have different personalities.
"Part of that came from me thinking 'what if I translated what's good about this West Coast IPA into a hazy?'. Or 'if I translate a hazy back into a West Coast IPA – what would it look like?'.
"I'm hoping folks will be in to that and will come along for the ride. It won't be Cryomofo parts two, three and four – put it that way.
"I want to have that similar theme, so it keeps that sibling rivalry. So you could expect to see (Cryo Mosaic) in there for the next one but then the supporting hops around it and the malt and yeast structure will change.
It will be interesting to see, when you change one or two parameters, just how the beer will be and how different people's perceptions will be."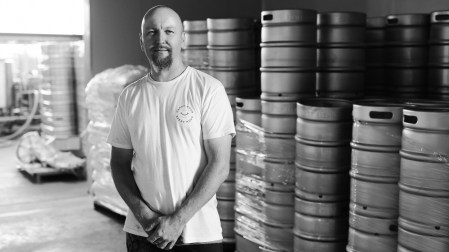 The X factor
The yeast used in Cryomofo is an American Ale yeast chosen for its ability to stay in the shadows and simply accentuate the hops and let the malts be as clean and distinct as possible. That malt bill was charged, among other things, with the responsibility of being a sponge of sorts so it could be hit relatively hard with Cryo and T90 pellets.
"The interplay with the hops and the malt structure was really important from the outset. I didn't want this beer to be just really one dimensional and have people go 'oh, look at all these wonderful hops'.
"What I wanted was all those wonderful hops but to tweak the malts so there was this interplay, which is better than either of them on their own.
It adds that extra dimension to it, that X-factor. It's not a special ingredient. It's the result of those ingredients being integrated really well but still having all that definition. Because that's the thing about this beer – it's so vibrant and defined and that's what makes it a joy to experience and to stick your nose in the glass."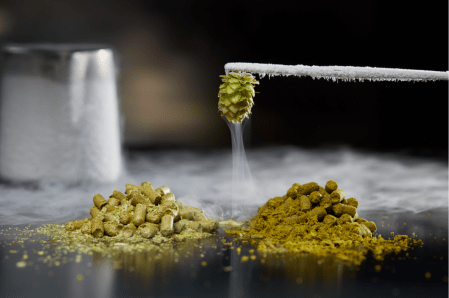 Mosaic: a natural fit for Cryo therapy
"Mosaic is awesome but it can have a weedy and Geraniol aspect in there. I remember having a conversation with Jason Perrault (CEO and head hop breeder for Yakima Chief Ranches) that bred it, that they called it Mosaic because of the myriad of flavours and characters and experiences you get out of it – depending on when you use it – like what time in the boil you use it when you dry hop with it or what type of beer you're producing.
"And I think with the whole Cryo thing with Mosaic is it just helps to sharpen up and accentuate all the best parts of it. In saying that, we use T90 Mosaic all day everyday in a lot of our beers and we're really really happy with it.
But the Cryo version of it is just that bit more refined. You can potentially push the limits a bit further with it. It just allows you to put your foot a bit further through the pedal."
Cryomofo was officially released February 10. See its stockists here.