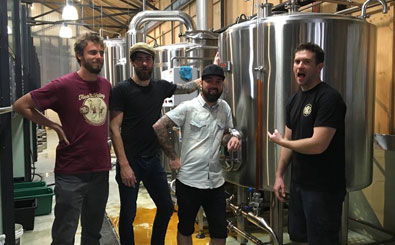 Melbourne bar, Boilermaker House, is launching a series of collaboration beers, specially brewed to match certain whiskies.
"We decided to work with a select few Australian craft breweries in order to take beer and whisky matching to the next level," Boilermaker House co-owner Greg Sanderson told Beer & Brewer.
"Up until now we take a quality beer and match it to one of our many available whiskies from the back bar. We thought what if we went one step further and brewed beer in collaboration with some of the breweries we love specifically to match one individual whisky.
"We could then craft the beer's flavour specifically to the flavour profile we wanted for that individual dram."
The first collaboration beer, Rivet Red Ale, has been brewed with Newstead Brewing Co. in Brisbane and is designed to be paired with Glenlivet Nadurra Olorosso Cask.
"The Boilermaker House Rivet Red Ale uses a total of nine different grains and three hop varieties. It is malt-driven with lots of warm Christmas cake spice and a lightly hopped finish, it sits at 8 per cent ABV," explained Sanderson.
"The Glenlivet Nadurra Olorosso Cask is full of dried fruits, rich cinnamon and vanilla, orange and lots of spice finishing nice and dry. We wanted the beer to also have these similar spice characteristics but be sweeter to counter the dry finish of the whisky hence the light hops and malt-forward style we chose.
"When drunk together there will be this lovely interaction from all the spices coming through from the beer and whisky and a balancing act between the dry tannins in the whisky from being aged in Olorroso casks and the sweetness from the malts in the beer."
Sanderson and assistant venue manager Max Hart flew up to Brisbane earlier this month, to work with Newstead's head brewer Mark Howe to create the distinctive beer.
"We chose Newstead because we have been working closely with them since we first opened up," said Sanderson.
"At Boilermaker House we all really love Newstead beers and they are big fans of what we do here at Boilermaker House. They are just all round great guys and have awesome quality craft beers."
The Boilermaker House team have more collaborations on the horizon to help further their quest to take beer and whisky matching to the next level.
"No plans on how many we will do but I feel this will be an ongoing enterprise showcasing our devotion to craft beer and whisky matching," said Sanderson.
"It would be pretty cool to be able to get six collaborations down to make a neat six-pack."
The Rivet Red Ale will begin with a limited release of 18 kegs and will be available exclusively at Boilermaker House from the beginning of Good Beer Week (13, May).