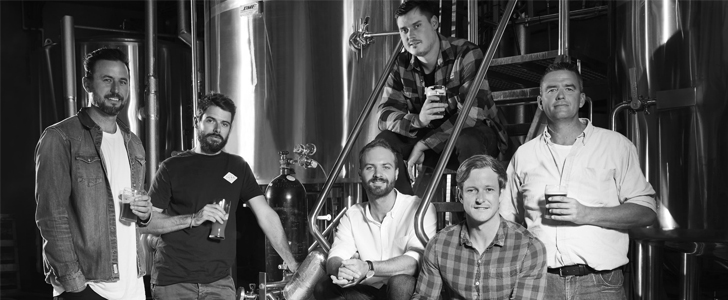 A new craft brewer has launched in Canberra, formed by a group of mates in the cider and hospitality industries.
The team behind the aptly-named Capital Brewing Co. comprises the operators of Canberra venues Honky Tonks and Hippo Co. (Tom Hertel and Laurence Kain), and founding brothers of Batlow Cider Co. (Rich and Sam Coombes).
"The idea came about when we met Tom and Laurence supplying cider to their venues," Rich Coombes told Beer & Brewer.
"We became good mates along the way and often talked about building our own brewery in Canberra, given our mutual love of good beer and the region. Mid last year the opportunity arose to make it happen and the idea to create Capital Brewing Co was born.
"We then brought together an awesome team including Nick Hislop and Ian Stott who have backgrounds in brewery and cider operations and sustainability, as well as Clare Downes, founder of Secret Garden Festival."
The guys have brought in Wade Hurley as head brewer, who hails from the USA and is currently gypsy brewing out of a couple of Sydney-based breweries until Capital has its own brewery up-and-running later this year.
"Our head brewer Wade Hurley spent five years at US breweries Coronado and Greenflash before joining Capital, so he's brought a lot of his style and influence into our brewing program," said Coombes.
"Our initial line-up includes our Coast Ale, which is our take on a California common ale (30 IBUs, 4.4% ABV), our Trail Pale Ale (45 IBUs, 4.7% ABV) and a hop-driven seasonal Red IPA we have called the Evil Eyed Red IPA coming in at 60 IBUs and 5.8% ABV. It's an autumn seasonal and we have used some fresh US cascade hops recently harvested in Batlow."
The timing of the brewery launch coincides with the development of Batlow's hop program. Historically an apple growing region home to Batlow Cider, the last two years has seen a move into hop farming. With Batlow located just 80km from Canberra, the team at Capital Brewing hope to brew with as many hops from the region's harvest.
"Batlow is widely-known for producing great apples, however more recently the Batlow Fruit Co-operative have expanded into hop farming, planting over 10 different varieties including chinook, cascade and super alpha to name a few," explained Coombes.
"Recently a government grant was received to undertake a hop study of key hop producing areas in the US and NZ, and bring that expertise back to Australia to start NSW's first hop growing region.
"Our plan is to use as many Batlow hops as possible in our brewing and work with the hop growers to drive the program forward."
The Capital Brewing team plan to make the most of their hospitality skills, with a large brewhouse to open later in the year.
"We're about to take a lease on a great 1000m2 space in Fyshwick about 10 mins from the Canberra city centre," said Coombes.
"There we'll have our brewhouse, bottling, kegging and canning production operations as well as a solid hospitality offering and tasting bar. We really want to create something people can touch and feel the whole way through the process."
Capital Brewing beers will be available after their launch on 21 April, on tap at venues throughout Canberra and in selected bars along the East Coast.
The Australian Capital Territory may well be Australia's beer capital per capita, with an impressive six players for the roughly 400,000 population. The brewers include; BentSpoke Brewing Co., Wig & Pen Brewery, Zierholz Premium Brewery and Tortured Gum Brewery, as well as gypsy brewers Pact Beer Co. and newbie Capital Brewing Co.