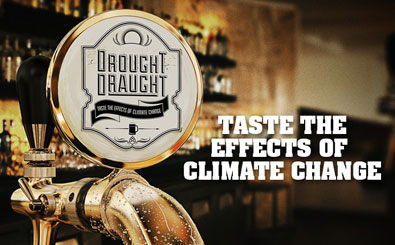 Climate change is driving severe droughts in Australia, with the damage from this affecting many areas of our lives, including one of our most loved items, beer.
"If you drink beer, climate change is already impacting you. In addition to hops shortages caused by more frequent and severe droughts, climate change is also reducing the quality of key crops used in the manufacturing of beer, including barley," said Climate Council professor Lesley Hughes.
So to help raise awareness about the impacts climate change could have on its product, Young Henrys has crafted a beer with ingredients that have been affected by climate change.
"Drought Draught brings the bitter taste of climate change to life in a glass. It's been brewed under drought-like conditions to reflect the impact climate change could have on beer's core ingredients in the future," explained Young Henrys co-founder Richard Adamson.
"Our 'beer scientists' have teamed up with our suppliers and actual scientists, to brew an ale from drought affected hops, barley and using a drought affected water supply. It's a painful thing brewing a beer where we have no control over quality."
Tastings of the beer will be made available this Saturday (19 March) at Young Henrys Brewery in Newtown. The brewery will also be donating the cost of every Young Henrys beer sold with a taste of Drought Draught to the Climate Council – giving Sydneysiders the opportunity to shout the planet a round.
"Drought Draught gives beer drinkers a chance to taste what the future looks like if we don't effectively tackle climate change," Hughes said.
"With rising temperatures, increasing droughts and crop losses, it could be last drinks for beer lovers if we don't take action to stop the damage being done to our climate."