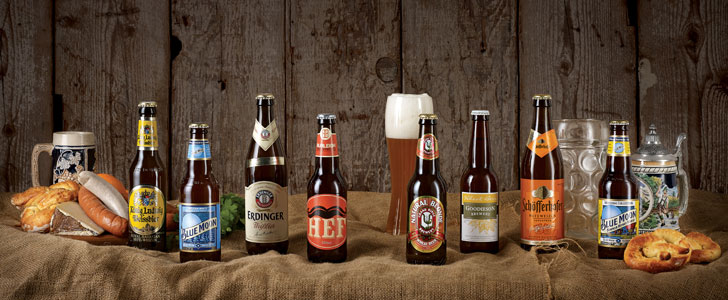 With their low bitterness, malty sweetness, fruity esters, spicy phenols and lively carbonation, wheat beers were seemingly made to be paired with food. Here are eight to try this season
(1) König Ludwig Weissbier
A traditional German wheat beer brewed in Bavaria in accordance with the purity law of 1516, König Ludwig Weissbier depicts the style well. The customary clove and banana aroma is evident although somewhat restrained with some nice bready notes also present. The palate is rich and full, with good malt layering and some banana and tropical fruit character. Rich on the finish, with good residual maltiness and less dry than other conventional styles of hefeweizen.
FOOD MATCH
Beetroot and goats cheese salad
ABV: 5.5%
RRP: $5 per bottle (330ml)
(2) Blue Moon Belgian White
A Belgian-style ale, Blue Moon Belgian White is brewed with white wheat and oats for a crisp, wheat finish that's perfectly complemented by a combination of orange peel and coriander. It's best served in a weiss glass with an orange slice garnish to bring out the subtle citrus aroma and finish.
FOOD MATCH
The beer's light, spicy, citrus flavours pair well with seafood such as grilled prawns and Asian dishes like pad Thai
ABV: 5.4%
(3) Erdinger Hefeweizen
Erdinger is the world's most popular wheat beer and one of the few wheat beer breweries that continue to use the 'Champagne method' of secondary fermentation in the bottle/ keg ensuring perfect carbonation and an exceptionally well-balanced beer. With a distinctive bright golden colour the flavour is mildly sweet up front, with a good deal of sensation from the carbonation. The middle of the palate offers spiced citrus notes and the finish brings out a swirl of elegant hop flavour.
FOOD MATCH
Delicious with chicken or veal schnitzel
ABV: 5.3%
RRP: $6.29 per bottle (500ml)
(4) Burleigh Brewing HEF
Burleigh Brewing HEF boasts the classic German wheat beer characteristics of banana and clove, rich flavours, a bright white head and a smooth, creamy texture. It is an unfiltered, refreshing, flavour-filled beer without being overpowering.
FOOD MATCH
Cheese, seafood, fruit chutney
ABV: 5%
RRP: $21-$22 per six-pack (330ml)
(5) Grand Ridge Natural Blonde
Natural Blonde is a classic Belgian-style wheat beer. This blonde is naturally cloudy using Australia's premium wheat, malt, and coriander. A touch of orange peel lets luscious hints of citrus seep through the head. A real chef's beer, Grand Ridge uses Natural Blonde at its restaurant for incredibly light and flavoursome batters and also recommends using it to steam mussels. This beer makes any seafood work to perfection.
FOOD MATCH
Fresh, wild barramundi fillets
ABV: 4.5%
RRP: $18-20 per six-pack (330ml)
(6) Goodieson Wheat Beer
This German-style wheat beer has a beautiful balance of banana and clove aromas and flavours.  Slightly hazy with a golden colour and a very low bitterness this beer will leave the true wheat beer lovers craving for another glass. Gently shake the bottle before opening and pour with at least two distinctive pours. Pour approximately three quarters of the bottle, than swirl the bottle to ensure the entire contents of the bottle are poured into the glass.
FOOD MATCH
Thai, Malaysian, seafood or just use it to make a fantastic beer batter
ABV: 5.2%
RRP: $23 per six-pack (330ml)
(7) Schöfferhofer Hefeweizen
Wheat beer usually prevails from Bavaria however the Binding Brewery in Frankfurt has its own take on what a wheat beer should taste like and Schöfferhofer is now the most successful wheat beer brand brewed outside of Bavaria. Brewed with additional hops to bring extra bitterness, Schöfferhofer has an unmistakable bright amber haze with tangy fruit and spice flavours delivering ultimate thirst-quenching refreshment and seems to be perfectly designed for the Australian palate.
FOOD MATCH
Skewered shrimp with rosemary
ABV: 5%
RRP: $5.50 per bottle (500ml)
(8) Blue Moon Summer Honey Wheat
Blue Moon Summer Honey Wheat is crafted with orange blossom honey for a hint of sweetness and a touch of orange peel for subtle citrus notes. It's a refreshing, balanced taste that's landed just in time for the longer, warmer days of the season.
FOOD MATCH
Grilled summer barbeque meats such as marinated chicken with honey mustard sauce
ABV: 5.2%
For more information on wheat beers, check out the Autumn Issue of Beer & Brewer, which hits stands on Monday, 21 March.
Have we missed your favourite wheat beer? Tell us your pick here.