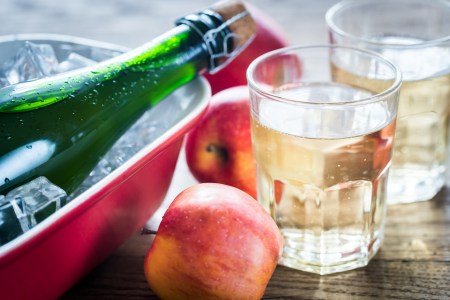 By Andy Young, TheShout
Cider Australia, the industry body which champions Australia's cider industry, is calling on the Federal Government to introduce a minimum juice content for cider and streamline regulatory requirements for Australian cider.
The body says the current regulatory framework is holding back growth and making it difficult for consumers and producers to differentiate higher quality products in the marketplace. Cider Australia President, Sam Reid, said if the Government made the regulatory changes it would help to unlock sustained growth and diversification in the Australian cider industry.
"Cider producers must navigate a ridiculous situation whereby the Food Standards define cider as one thing and the Australian Tax Office defines cider using another definition and neither of these definitions include a minimum juice content, which every other country globally sees fit to include in their definitions," Reid said.
"The regulatory framework is certainly not ticking any of the boxes on why we have food standards in the first place, such as to ensure consumers can make informed choices and to promote consistency with international standards."
While Cider Australia is looking to address product integrity with the cider industry, the body says if the Government fails to address this issue or reform the regulatory requirements it would lead to a drop in investment and direct employment, with further impacts throughout the cider supply chain.
Reid added: "Cider Australia is doing all it can to drive integrity in the market and is exceptionally proud to have recently launched a trust mark that can be displayed on ciders made with 100 per cent Australian grown fruit, but we need effective regulation to support these efforts."
In its position statement on cider product integrity, Cider Australia said: "Cider Australia estimates that over 85 per cent of the cider 'made in' Australia is actually 'made with' imported juice concentrate and not Australian grown fruit as you'd expect.
"Most cider consumers are not aware of this fact. A voluntary declaration on the labels of the small percentage of ciders that are made with 100 per cent Australian juice is not enough to bring attention to this issue. The fact that producers of ciders made with imported juice concentrate choose not to state this on their labels is evidence that this is something worth hiding from consumers."
It added: "As it stands, the regulatory framework will not facilitate investment in orchards, processing facilities and other infrastructure, skills development, marketing or R&D. All of these are essential to the sustained evolution of the Australian cider industry."
In terms of how to fix the issue, Cider Australia said it proposes that the Government:
implements a minimum standard with respect to the proportion of juice in cider of 50 per cent (by weight of finished product);
redefines the meaning of cider and perry to exclude added alcohol2 and permit all pome fruit products (currently only apple and pear products are allowed);
defined apple and/or pear brandy, apple and/or pear spirit, fortified cider and Method Traditional cider and the permitted ingredients and compositional requirements for each product explicitly states the additives and processing aids that may be used to produce each product;
sets out compositional requirements for each product including a maximum ABV for cider and perry of 15 per cent (currently there is no upper limit).
Cider Australia said the next step would be for the Government to ask Food Standards Australia New Zealand to update the production rules for cider. Adding that the body has commenced engagement with stakeholders on this issue and that further discussion will take place at the national cider conference in Hobart from 2-5 June 2019.