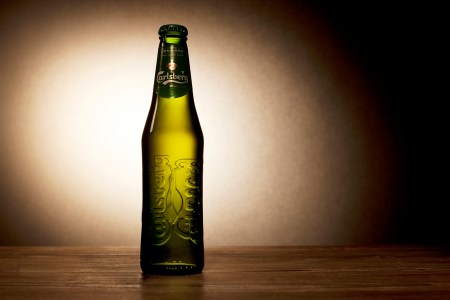 Carlsberg will not update the recipe of its flagship beer in markets other than the UK, despite generating headlines worldwide for the unusually direct marketing approach of its new ad campaign there – which admits its lager is "probably not the best beer in the world".
Following the buzz created by Carlsberg UK's campaign as reported by Beer & Brewer two weeks ago, a representative from Carlsberg Group responded to queries about what the campaign means for the beer in other international markets, including Australia.
"The UK's Carlsberg brew has always been a beer brewed exclusively for the tastes of UK drinkers," said Kasper Elbjørn, Media Director at Carlsberg Group. "A new recipe has been introduced together with new packaging and a range of sustainability innovations.
"This is a UK specific situation and is not the case in other markets. We are very satisfied with the quality and performance of Carlsberg Pilsner in other markets, including Australia, and hence we will not change the recipe."
Given that the recipe of Carlsberg in Australia – brewed here by Premium Beverages – will not be changing, it follows that the same head-turning marketing campaign won't touch ground Down Under either.
"This campaign will only be rolled out in the UK to support the launch of the UK Carlsberg Danish Pilsner," Elbjørn said.
However, as Elbjørn explained: "Carlsberg globally is on a journey and very soon, including in Australia, Carlsberg will look a little different. This is not a relaunch. It represents a moment within a constant reappraisal and refinement of all aspects of the Carlsberg brand, its products, packaging and behaviour.
"It is what our founder J. C. Jacobsen's would have demanded back then. And it is what we must demand of ourselves today and again tomorrow, when there will be another chance to do things better.
"These changes will be fully supported in Australia with a media campaign throughout social and digital platforms, and cinema, which is scheduled for later in the year."
Data analytics company GlobalData has also responded to the ad campaign, saying that it is evidence of Carlsberg playing the "authenticity card" to signal a "renewed focus on quality".
"The unusually direct approach is likely to earn respect from consumers who place a premium on authenticity," said Katrina Diamonon, Consumer Insights Analyst at GlobalData.
"The gutsy campaign is part of the brand's shift in focus to product quality over brand growth. Carlsberg conceded that, in its efforts to expand, the brand lost its way and abandoned its attention to flavor and quality.
"This has inevitably hurt the brand, as it has other mainstream lagers, as drinkers have gravitated towards more complex and flavourful options."