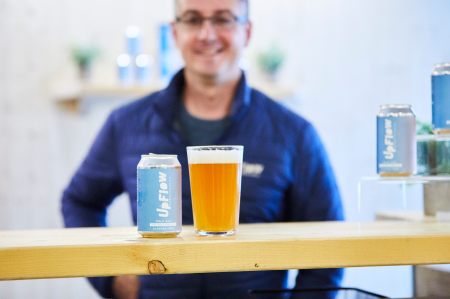 Dedicated non-alcoholic craft beer brand UpFlow Brewing plan to make significant inroads in the lucrative US and UK markets after being awarded a $200,000 grant from e-commerce giant Amazon.
As part of Amazon Australia's Launchpad Innovation Grant, Upflow, who were recognised for their "entrepreneurial spirit and unique innovation", will receive $20,000 in cash, Amazon advertising support, an "exclusive boot camp" experience with access to Amazon experts, a national advertising package with JCDecaux Nurture, industry mentorship, and onsite marketing placements on Amazon.com.au.
UpFlow co-founder Julian Sanders (pictured above) said the grant will be invaluable in terms of domestic exposure but he felt there was now an opportunity to "raise their goals" internationally.
"What we'll be attempting to do through this (grant) is put together a case study of how Amazon and UpFlow work really well together so we can get a Launchpad deal in to the US and UK," Julian told Beer & Brewer. "By demonstrating the way our product and our brand works through the Amazon channel here we strategically want to get a market entry that's favourable in both the UK and the US later this year."
UpFlow's arrival in Australia in July last year followed success for other non-alcoholic beer brands in North America and Europe, but at the time there was skepticism whether that same demand existed Down Under. But since then, admittedly coming off a low base, the drinks category is now among the fastest growing in the country and certain brands are outstripping sales of their alcoholic counterparts. BWS and Dan Murphy's have recently reported that sales have more than doubled in the past 12 months while Asahi have said their brands in this segment, Carlton Zero and Great Northern Zero, were significant bright spots to their overall growth.
"Since we started my intuitive insight has been brought out to be true and it's now published market research, it's historical data and fact, that there is this growth rate in the sector," Julian said. "Australia is punching above its weight in this sector globally. It's a nice opportunity for Australian beer culture to be exported overseas for once rather than us having to import historical styles. As part of this century's cultural development of beer in Australia we have our own brands, our own people, our own ingredients and styles and we can export that."
Joining UpFlow as recipients of the grant were three fellow Victorian companies – baresop, Milkdrop and Patch – and Goldilocks Suit from South Australia.
Chadd Ciccarelli, head of Launchpad, Amazon Australia, said: "Amazon Launchpad highlights innovative, cutting-edge products from start-ups, and entreprenuers from around Australia and the world, making it easy for them to on-board, market and launch new products to Amazon customers.
"We're also thrilled to be able to launch the winning brands on Amazon.com.au in time for Prime Day 2021, and put them in the spotlight for one of our of biggest shopping events of the year."
Budding Australian entrepreneurs, start-ups and small-medium-sized businesses can submit interest for the Amazon Launchpad program here.