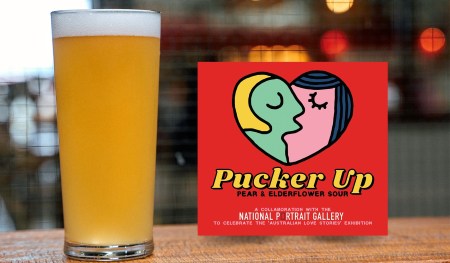 To celebrate the forthcoming Australian Love Stories exhibition Canberra's Capital Brewing Co. have released a new beer that's designed to reflect the sometimes sweet and sour nature of romance.
As part of a new partnership with the National Portrait Gallery (NPG), Capital launched the Pucker Up Pear & Elderflower Sour (4.5%) in venues around Canberra on Valentine's Day ahead of the exhibition opening on March 20. It will also be pouring in various venues in Sydney as well.
"The elderflower was chosen as a key ingredient, because it has historically been regarded as an aphrodisiac, used to ward off evil spirits, and to symbolise regeneration – all of which are relevant when talking about romantic love," NPG director Karen Quinlan said.
Capital Brewing's lead brewer Matt Thiele said the sour's name has a bit of a double meaning also.
"Pucker up is of course the vernacular for a kiss, and one sip of this sour will definitely make you pucker your lips," he said.
"It's a perfectly balanced sour with a lovely hint of sweetness and a silky mouthfeel thanks to 250kg of pear and the addition of lactose.
"Dried elderflower petals added hot side and dry-hopped elderflower syrup adds subtle earthy, floral aromas. It finishes tart making it a refreshing, sessionable, Summer love story."
The new exhibition has been developed by the NPG to celebrate love in all its guises – from the romantic, to the platonic, between friends, lovers, creative collaborators and within families and communities.
Drawing on gems from the NPG Collection and other public and private collections around Australia, the exhibition features more than 200 artworks including photography, painting, works on paper and small objects. At its heart are the real-life love stories shared. Using contemporary portraiture and the storytelling intrinsic to the genre, more than 80 stories are featured – from the enduring to the forbidden, familial, platonic, unrequited, obsessive, scandalous and creative, the famous, the infamous and the little-known.