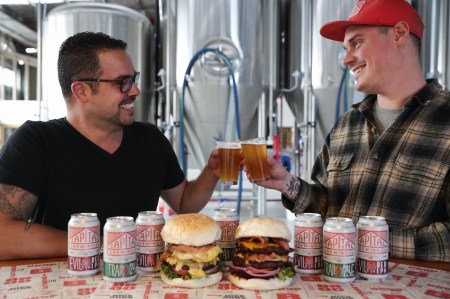 Capital Brewing Co has brewed its first official beer from its newly commissioned brewery in Fyshwick, Canberra, ahead of the launch of a tap room on the same site in September.
"It's phenomenal to think that in only a little over 12 months, the support for our beers has allowed us to put down our own bricks, mortar and lots and lots of stainless steel allowing us to make our beer right here in this place we love," said co-founder Laurence Kain.
Formed in April 2016 as a partnership between Canberra hospitality gurus Kain and Tom Hertel (Honky Tonks and Hippo Co.) and the founding brothers of Batlow Cider, Rich and Sam Coombes, up until now Capital has been gypsy brewing at several breweries in Sydney.
"Brewing right here in Canberra is a dream come true," said Capital's Head Brewer, San Diego-bred Wade Hurley.
"Beer is 90% water, and we've been hiking up in the pristine wilderness of Namadgi National Park where the water for our beers will now come. I doubt there's better water anywhere in the world. In addition, brewing on our own equipment gives us total control over the quality of our beers going forward."
The first beer brewed, the Trail Pale Ale, is the first of 12 beers that will be on offer at the new tap room, opening on 9 September.
Capital has also announced that they'll be collaborating with the legendary Brodburger "so you'll be able to enjoy some of Canberra's best beer with Canberra's best burgers," said Kain.
"We're pulling out all the stops from out last 10 years in hospitality to create a space that is amazing to catch up with friends, bring your family (including your dog) and get amongst some amazing beer!
"You'll be able to enjoy a brew fresh from the tanks and sit right next to the vessels where we make your beer."
The commissioning of the brew house and the partnership with Batlow Cider – which recently starting growing hops only 88km from Canberra – as well as the use of grain from Canberra growers will complete the 'paddock-to-pint' equation, and showcase the best the region has to offer.