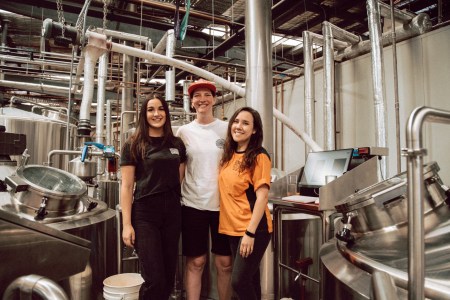 To celebrate International Women's Day an all female team is taking over Capital Brewing's brewhouse to create a beer inspired by the National Gallery of Australia's Know My Name initiative.
Led by Capital brewer Sherri Dill, the brew team will create a Milkshake IPA featuring the Yakima Chief Hops exclusive Pink Boots Collaboration Brew Day hops blend. Proceeds from the sale of beer will be used to support women in the brewing industry.
"The worlds of art and brewing have always had a lot in common," Sherri said. "Brewing is considered both an art and a science. And regrettably, gender inequality is prevalent in both sectors."
In 2019 a Brewer's Association report found that only 7.5 per cent of brewers were female. In that same year, the National Gallery of Australia (NGA) acknowledged that only 25 per cent of its Australian art collection was by females. Their response, titled Know My Name, is a celebration, a commitment and a call to action that celebrates the work of all women artists with the aim of enhancing understanding of their contribution to Australia's cultural life.
The beer will be released in late March pouring at Capital's Fyshwick Tap Room, special events at the NGA and in other venues around Canberra and the region.
This is an edited version of a media release distributed by Capital Brewing.