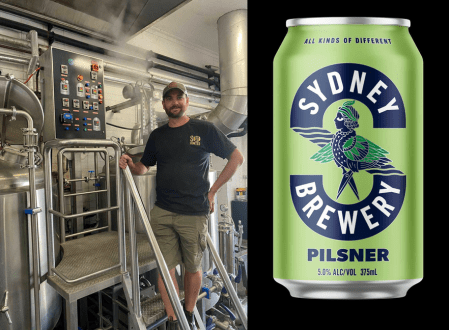 For Sydney Brewery's head brewer Scott Hayward the secret to the success of their Pilsner is not in any special ingredient or fancy brewing technique but rather just doing the simple things well.
After being crowned the 2019 Champion Lager at The Indies and winning gold at the Australian International Beer Awards in the same year, their Czech-style Pilsner, formerly known as the Surry Hills Pils, was yesterday named as the 2021 Royal Queensland Food and Wine Show (RQFWS) Beer Awards' Grand Champion Beer plus took out the Champion Lager as the brewery was deemed Champion Small/Medium Brewery.
By beating more than 480 entries from 71 separate breweries to take the Grand Champion Beer title they won a $5,000 Lion Bursary to invest in their business.
"We simply use the classic key ingredients of Pilsner malt and Saaz hops," Scott, a qualified chemical engineer, told Beer & Brewer. "But because there's not a lot to hide behind with a Pilsner I think what can set you apart are things like good hygiene and your overall good practices to make it well. You have to be technically perfect."
It was a sentiment shared by RQFWS Beer Advisory Group member and judge Steve Henderson.
"Since it's a light style of beer it's very difficult for the brewer to hide any faults and the team at Sydney Brewery has overcome this challenge," Steve said.
Much like Sydney Brewery itself, a Pilsner isn't currently one of Australia's more flamboyant and for that fact Scott (pictured above) said he was stunned at its recent success.
"I was really surprised actually that a Pilsner would outdo all of the other styles. I thought it was good enough to medal but I was shocked that a Pilsner would stand out above the rest. Breweries are putting a lot of their attention on other styles and doing them really well."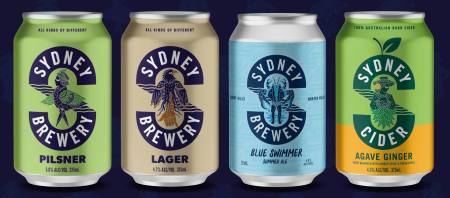 The Pilsner is part of Sydney Brewery's new look core range that is slowly being unveiled and which streamlines their consumer facing presence. Along with the Surry Hills Pils, gone are names like the Paddo Dark as the brewery looks to have a greater geographical presence than just the inner Sydney suburbs that fringe their Surry Hills base.
Meanwhile, the Best Queensland Beer of Show supported by Treasury Brisbane went to Brisbane-based Aether Brewing for their Hop Skip & Jump IPA while fellow Queenslanders Burleigh Brewing's Rowan Haling was adjudged Best New Queensland Craft Brewer. The 25-year-old won for his brewery a 12 month commercial contract to sell their beers in Treasury Brisbane's array of restaurants and bars.
"Although we're well established on the Gold Coast, this is a great opportunity to get a foot in the door in a new destination like Treasury, especially when Queensland has such a competitive craft beer industry," Rowan said.
"To enter we had to create a new beer recipe that could be sold in Treasury's new overwater bar, Will & Flow. I took the approach that there's a beer for every occasion and given that the venue is right on the water and is a great spot for wine, cocktail, or beer drinkers, I decided to create a Brut IPA. It was a dry, crisp, and citrus IPA recipe, with a high level of carbonation to almost resemble a champagne, which I think would suit the venue."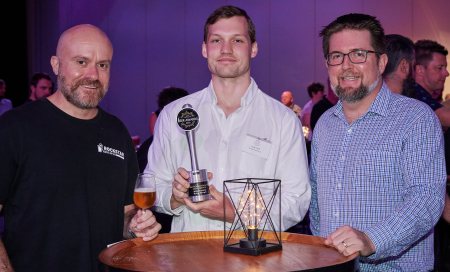 2021 TROPHY AWARD WINNERS
GRAND CHAMPION BEER
Sydney Brewery – Sydney Brewery Pilsner (Draught)
BEST QUEENSLAND BEER OF SHOW SUPPORTED BY TREASURY BRISBANE
Aether Brewing – Hop Skip & Jump IPA (Draught)
TREASURY BRISBANE BEST NEW QUEENSLAND CRAFT BREWER AWARD
Rowan Haling – Burleigh Brewing Co
CHAMPION BREWPUB
Moffat Beach Brewing Co
CHAMPION LARGE BREWERY SUPPORTED BY CRYER MALT AUSTRALIA
Black Hops Brewing
CHAMPION SMALL/MEDIUM BREWERY
Sydney Brewery
BEST NEW BREWERY
Stomping Ground Brewing Co
CHAMPION MIXED CULTURE BEER SUPPORTED BY 13 CABS
Currumbin Valley Brewing – Table Beer (Packaged)
CHAMPION STRONG BEER SUPPORTED BY 13 CABS
Aether Brewing – Hop Skip & Jump IPA (Draught)
CHAMPION SESSION BEER SUPPORTED BY YAKIMA CHIEF HOPS
Moffat Beach Brewing Co – Moffs Summer Ale (Draught)
CHAMPION EUROPEAN-STYLE ALE SUPPORTED BY BREWS NEWS
FICK Brewing Company – Brussels Ale (Draught)
CHAMPION INDIA PALE ALE SUPPORTED BY PACIFIC HOTEL BRISBANE
Black Hops Brewing – Code Red (Packaged)
CHAMPION LAGER SUPPORTED BY BARRETT BURSTON MALTING
Sydney Brewery – Sydney Brewery Pilsner (Draught)
CHAMPION HYBRID BEER
Felons Brewing Co – Dark Side Bourbon Barrel Stout (Packaged)
CHAMPION PORTER-STOUT SUPPORTED BY KONVOY
All Inn Brewing Co – Writersblock (Packaged)
CHAMPION AMBER DARK-ALE SUPPORTED BY PACIFIC HOTEL BRISBANE
Gypsy Fox Brewing Company – Rougey Red (Packaged)
CHAMPION PALE ALE SUPPORTED BY YAKIMA CHIEF HOPS
Moffat Beach Brewing Co – Passenger Pale Ale (Draught)
The full catalogue of results can be found here.