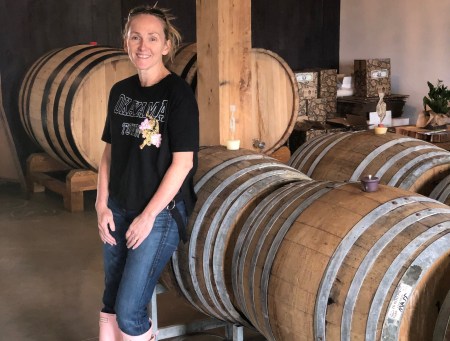 Dollar Bill Brewing are vowing to fight on, even move towns if required, to realise their dream of opening a cellar door to showcase their wild ales after an application to do so was unanimously rejected by the City of Ballarat Council last night.
Dollar Bill, which won the Champion Mixed Culture Beer at the 2019 Independent Beer Awards, had been seeking council approval to host a maximum of 30 people one weekend a month to experience their farmhouse-style beers first-hand on their three-hectare Invermay property. They had also sought council's blessing to plant the likes of hop bines and fruit trees to be used in those ales.
But the council collectively knocked those requests back, choosing to take on board the sentiments of some members of the public who felt a tourism venture based around the sale of alcohol wasn't the right fit for the community.
Other residents who made submissions against Dollar Bill's proposal said the brewery's owners Fiona and Ed Nolle had been fined by council twice in the past for environmental breaches on the property and that they were operating a brewery outside of their existing planning consent.
Rejecting those claims of operating without the correct permits outright, Fiona (pictured above) said the hearing felt more like "a personal attack" and that the area had now potentially lost "a vibrant and unique asset that would have raised the profile of Ballarat in not just the brewing world but with tourism in general".
"For such minimal impact there would be such a maximum return for the town. I think what's happened is the local people have missed a big opportunity to have something really lovely here that would be a big addition to the area," Fiona said.
"I understand it. It's a fear of the unknown. But it does bamboozle me how out of touch some people are. (The reaction) is very today with the cancel culture the way that it is. The complainers win every time now."
Fiona said she was further confused by the fact a winery's cellar door had been operating "incident free" for over a decade on her same street but that hadn't persuaded council to view their application favourably.
She felt some members of the public who had submitted their views to council were confusing what Dollar Bill does with what "your more traditional brewery or brewpub does".
"It's really disappointing and it's so hard. I even tried to get every councillor to come out to the farm before they voted because any one that does actually come and visit us goes 'oh, you're not a brewery'. And we're like 'no, it's all barrels. We blend here'.
"We tried to express to the council that people aren't coming here to smash beers and have a parmi.
"They don't have anything in their planning scheme to allow for a brewery like us that is so agriculturally based.
"And that's the hardest pill to swallow. Victorian Rural Industries approved that we were a rural industry. We ticked every box. But it's just the council have said we're not a good fit for it.
"We're 100 per cent permitted to do what we want to do here. They just won't give us the permit. And that's the really hard thing."
In their closing statements yesterday, certain councillors did encourage Fiona and Ed to work closely with the council's economic development team in the hope their cellar door plans would come to fruition as it would have a positive impact on Ballarat's tourism.
However, Fiona said the development team's preference is for Dollar Bill to open a business in the town and that has never been part of their vision.
"I don't know what eco dev can really offer us to be honest. I don't want to run another brewpub. I have three kids and that's not what Ed and I are about. We're about education and the product and sharing what we do in our life with people."
Fiona said she hopes allowances can be made so their cellar door vision can eventually come to life on their current property but that Ed and herself were more than prepared to move elsewhere.
"We're not going away. We always said if we didn't get the cellar door over the line in the time frame we wanted we would push a bit harder on our production.
"And if our hand is forced and we need to move, well, it's an adventure isn't it?
"Because of COVID I had said to Ed 'I'm not sure I can get fired up about this again.' But then I said to him 'na, we're not done yet'. And that still rings true now, we're not done yet, not by a long shot.
"We've got a lot to prove and we'll do it. We've just got to find the right place to do it now."