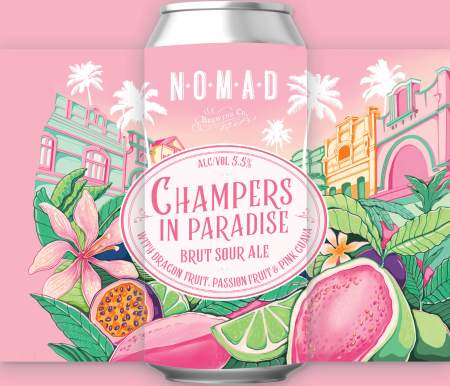 Champers in Paradise Brut Sour Ale (5.5%, 440ml can)
Nomad Brewing Co are one of the lucky few that can truly call where they work and live paradise. Not only are Sydney's Northern Beaches blessed with natural beauty but it's a beer lover's Shangri-La too, with their own 2100 Brookvale postcode alone home to multiple excellent breweries and taproom experiences.
That number is growing too, with the recently opened Bucketty's Brewing Co brewpub joining Nomad and their Brookvale stablemates 4 Pines, 7th Day and Dad & Dave's (who have just opened their taproom), while Quakers Hat are a short stroll down the road. With Manly, Freshwater and Curl Curl beaches all within a picnic blanket's throw away, paradise is the only way to describe it.
And that's where Nomad's latest limited release pays homage to and raises a champagne flute in its honour – complete with Manly's iconic promenade 'The Corso' gracing the can art.
Champers in Paradise is the second instalment in their Champers series following the 2019 Brut IPA release. And it takes on a paradisical playfulness from the get-go as its flamingo pink-blood orange hue cries out to be complemented with a cocktail umbrella. This is really a sour beer version of a mimosa as the fruit additions of pink guava, passionfruit, dragon fruit and lime add a tropical, funky zing of flavours and aromas to the dry finish.
The smells of those key fruit ingredients waft in and out like a hammock's sway with ripe passionfruit pulp ahead of the rest.
There's next to no bitterness or a malt presence, but rather an idyllic balance of being a touch sweet and a little puckering sour whilst all kept together with its tropical fruit backbone and dry, lean finish. Welcome to paradise.
Champers in Paradise launched February 12.