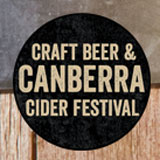 The Canberra Craft Beer & Cider Festival (formerly known as The National Capital Craft Beer Festival) has been slated for Saturday, 29 March 2014 at the Schwarz Family Company's Mercure Canberra.
Featuring a line up of brewers that includes Sydney Brewery / Lovedale Brewery, Lord Nelson, James Squire and Little Creatures, the event has been designed to showcase more than 80 beers and ciders, plus the wares of local gourmet food outlets.
There is entertainment throughout the day, a jumping castle for the kids and the annual Brewers Table Tennis Championship as well.
For tickets, ($20 pre-sale, or $25 at the door) check the event website for a link to Moshtix.