The 10th anniversary edition of the Canberra Craft Beer & Cider Festival attracted record numbers to the grounds of the Mercure Canberra, with 3000 visitors in attendance on a sunny Saturday afternoon.
The crowd enjoyed beer and cider tastings courtesy of 46 different exhibitors from around the country, and sipped on their brews while enjoying live performances from local musicians, a wide range of cuisine, demonstrations and workshops, and a range of family friendly activities.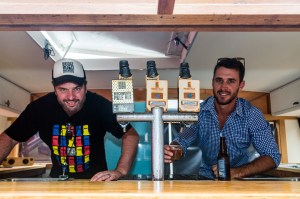 This was in stark contrast to the debut event, when there were just 12 stalls and it poured down with rain. Nonetheless, it was the resilience of Canberra's enthusiastic craft beer and cider fans that persuaded organizer Jenny Farrell that the Festival had the legs (or kegs!) to survive and thrive.
"The Canberrans just loved it," she recalls. "We threw out ponchos and they stayed, drank and had a sensational time."
ACT Chief Minister Andrew Barr was one of the guests to the 2017 edition of the Festival, highlighting the growth and maturity of Canberra's craft brewing scene and its contribution to the city's tourism and hospitality sector.
The Canberra community also benefited from the event, with $2,200 raised for the cancer support group, ACT Eden Monaro's Own.
The Canberra Craft Beer & Cider Festi
val is staged by the Schwartz Family Company. Director Dr Jerry Schwartz said that Canberra had embraced the Festival and was increasingly being recognised as an "epicentre" for great craft beer.
"The city's craft beer is like the city itself – it's really come of age," said Dr Schwartz. "Per capita, it probably has the most dynamic scene in Australia, judging by the number of local producers exhibiting.
"It was fascinating for attendees to taste so many styles in such a compact area, and importantly we make this a family-friendly Festival. It's about tasting while enjoying local cuisine, music and entertainment."
Keep an eye out for the Festival's return in 2018.