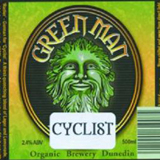 It's a classic David & Goliath tale – a multinational brewery being taken on by segments of the NZ craft brewing industry, and it's all because of a trademark.
This story began in 2003, when DB Breweries trademarked the name "Radler", a couple of years after its Monteiths Radler hit the market. However, things came to a head in 2008 when Dunedin-based Green Man Brewery launched its own Radler – and DB took them to court, claiming breach of trademark.
The stoush played out over the next three years, with the NZ authorities decreeing that it was a breach of trademark ownership for any brewery in NZ, other than DB, to call its beer a Radler, even if it was made in that particular style. The finding meant that Green Man was forced to re-label its Radler – which they now call "Cyclist", the English translation of the German word.
Fast forward to 2014, and it looks like the stoush has been reignited, thanks to a push from both the craft beer industry and the media to have the decision looked at from another angle – and has brought up the question of whether it's okay for anyone to trademark a style, and stop anyone else from marketing their beers using that particular name.
For the whole story, check out Jono Galuszka's very thorough piece in the Manawatu Standard – and keep up with the campaign via its Facebook page.