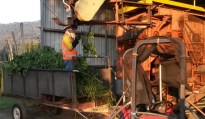 Bridge Road Brewers will again be releasing two one-off 100 per cent wet hop beers, 'The Harvest' and 'The Dark Harvest' made with three different research hop varieties from Rostrevor Hop Gardens.
This is the eighth year the Victorian brewery has crafted a wet hop beer.
"Please note that these beers are 100 per cent wet hopped, with no additions of dried or pelletised hops, perhaps two of only a handful in Australia being brewed this way," said Bridge Road founder Ben Kraus.
"Our most anticipated beer of the year, 'The Harvest' is due to be released and we are currently allocating stock, some kegs have already rolled out the door. This beer shows amazing 'wet hop' character that easily leads the pack in this new trend in Aus craft brewing."
The second wet hop beer, 'The Dark Harvest', is the result of a collaboration between the brewery and Mikkeller of Denmark.
"This is a wet hop beer with a difference, perhaps the only dark wet hop beer in Australia it combines the silky smooth malt profile of Mikkeller with big Aussie hop aroma and flavour. Mikel brewed this beer here with us in 2012, however was not in the country for last or this year's harvest," Kraus said.
"We used the same recipe as last year but have gone back to the original hop variety we used in the original brew. Research variety 016, we believe this hop is Australia's answer to Citra, with huge orange and mandarin qualities."
The two beers have been brewed as one-offs so stock is extremely limited. The Harvest costs $24 per six-pack and $90 a case, while The Dark Harvest costs $30 per six-pack.
It's a busy time for Bridge Road Brewers, which recently exported its first shipment to California, where the team is heading in May to be part of the Firestone Walker International Beer Festival and hold a tap takeover at Mikkeller Bar, San Francisco.
"We have managed to secure Shelton Brothers as a distributor who will test the waters with our beer in California," Kraus said.