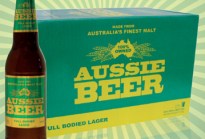 The Independent Liquor Group (ILG) has been fined $10,200 by the Australian Competition and Consumer Commission (ACCC) over its 'Aussie Beer', which was actually made in China.
"From March 2014 to August 2014, ILG supplied a product named 'Aussie Beer', with labelling that incorporated the statement '100% owned' within a map of Australia and the statement 'Australia's finest malt'," the ACCC said in a statement.
"The packaging also featured green and gold colours, which are colours closely associated with Australian sporting teams."
"The ACCC considered that, by its packaging and labelling, ILG represented that its 'Aussie Beer' product was a product made in Australia when in fact the product was made in China."
ILG's CEO Allen De Costa said that the company wanted to produce an Australian owned beer made overseas to keep costs down and that it had no intention to mislead the public.
"95 per cent of the beer sold in Australia is made in Australia by foreign owned companies. ILG wished to produce a beer owned by an Australian but made overseas to get costs down," De Costa said.
"ILG had no intention to mislead the public and the product was deleted before the ACCC action due to poor sales performance. ILG accepts the ACCC notice and fine."
While accepting the fine, ILG has called for an even playing field regarding labelling.
"In many cases international beers are made in Australia with Australian ingredients but the labelling makes you believe they are imported beers."
"Aussie Beer clearly stated it was made in China from Australian malt but using Chinese spring waters."
"Also in the wine industry that 2014 Marlborough sauvignon blanc you are drinking may contain 15 per cent 2013 vintage sauvy plus another 15 per cent locally made chardonnay or similar white grape and then bottled in South Australia. That's 30 per cent of a product's ingredients that are not of what the labels states."
"There certainly should be an even playing field regarding labelling."