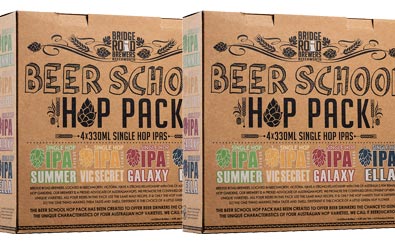 The Bridge Road Brewers Single Hop IPA Series has grown over the past four years and now welcomes the addition of the hop Vic Secret and the release of it's first in a series of Beer School Hop Packs.
"We enjoy a close relationship with local hop growers at Rostrevor Hop Garden and are advocates of the great new flavour hops being developed by Hop Products Australia," said Ben Kraus from Bridge Road Brewers.
"The addition of Vic Secret to the range of Single Hop IPAs took a surprisingly long time considering we were the first brewery to use this hop variety commercially, in our 2011 wet hop beer The Harvest."
The other three hop varieties in the Beer School Hop Pack are Galaxy, Ella and Summer. The pack is designed to educate consumers on the unique characteristics of hops in particular Australian hop varieties. Each of the four beers use the same malt recipe, brew schedule and yeast strain, it is only the hop variety that differs. The result is four similar but very different beers, allowing the drinker to clearly identify the aroma and flavour of each hop variety.
The packs have been released nationally this week. For more information, click here.