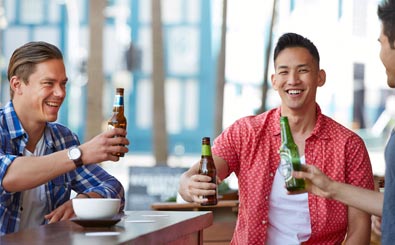 By Andy Young, editor The Shout
As Lion announces an Australian beer industry first with adding nutritional information panels (NIPs) to bottles and cartons across its entire wholly-owned Australian beer portfolio, managing director James Brindley said, "this is the right thing to do".
Starting this month Lion's beer bottles will carry nutritional information on sugar, preservative calorie (kilojoule) and carbohydrate content.
Brindley explained that labelling is part of a bigger "Beer the Beautiful Truth" program and that there were two main reasons behind the initiative.
"One is emotive and one is rational," Brindley said. "The emotive reason is that we are in the beer business, we love beer and it's not very well understood and it gets a bad rap. So we wanted to educate people so they can reappraise beer.
"The rational part is that beer is at its lowest level of consumption per capita since figures have been recorded and that's a bit of an economic challenge for us, so if we can get people to reappraise beer and consume beer more frequently and enjoy beer more frequently it is going to be good for business."
Brindley said that pre-empting harsh government legislation on labelling was "absolutely not" behind this decision. He added: "Lion, when we introduced consumer advisory labelling in conjunction with DrinkWise, we were one of the forerunners of that and it was just the right thing to do. And in this world of transparency it's just the right thing to do to put nutritional panels on your products."
The program is also designed to bust common myths about beer and communicate facts to consumers. One of the findings in its research for the NIPs was that Lion's wholly-owned Australian beers are preservative-free and most are on average 99.9 per cent sugar-free.
On the James Squire Nutritional Information Panel Brindley added: "The 99.9 per cent we were pretty happy with. We've done very rigorous testing and we thought it might be 99.7 or 99.5 so that 99.9 was awesome especially with the sheer number of people who think that beer is full of sugar and it makes you fat. It confirms what we all thought intuitively, but to get that from research it's pretty staggering the misunderstanding of beer. So if we can just get some people to dispossess themselves of that myth that's going to be good for beer."
The initiative is the first of its scale in Australia and will also include a communications program to broaden drinkers' knowledge from November. The new labelling will initially roll out on Lion's biggest beer brands, including XXXX, Tooheys, Hahn, James Squire and a range of smaller brands, covering more than 90 per cent of the brewer's total owned beer volume. The remaining wholly-owned Australian beers will be updated over the coming months.
Brindley also said that none of Lion's beer have been changed in any way as a result of the nutritional research. "Rest assured," Brindley said, "this is about providing the facts about our beers, not about changing the beers themselves."
Finally, Brindley also said that he believed as consumer knowledge of beer's nutritional details improved it would prove to be of benefit to retailers.
"All customers we've shared this with are pretty positive on the fundamental benefits and objectivity of this," Brindley said.
"Beer is still easily the largest alcohol beverage in Australia and if you get more people going into your shop to buy more beer they are going to be buying more of other things as well. So if this program works well it is going to be good for retail sales, so the whole industry can be a winner here."