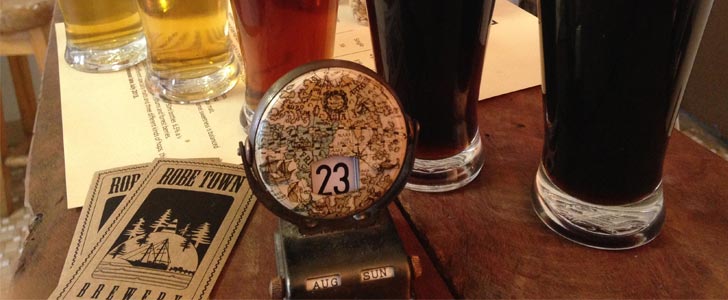 One of South Australia's newest craft beer players, Robe Town Brewery, will swing open its doors for the first time on 23 August and showcase its slow-brewed ales crafted by methods of yesteryear.
Located on South Australia's rugged Limestone Coast, Robe Town Brewery is a small family run business operated by husband and wife duo Maris and Kristi Biezaitis.
The brewery champions historic brewing methods using a wood-fired kettle, oak-barrel mash tuns, straw filtration beds, open fermentation and natural carbonation.
"We've always enjoyed making things ourselves and are fascinated by historical hands-on methods, which don't require any fancy (and costly) equipment. Using locally sourced firewood, straw, hops and other wild ingredients, as well as using only Australian malt is just a no-brainer to us," Maris Biezaitis told Beer & Brewer.
"But in the end, the slow-brewed concept is all about the quality of the beverages we make. We believe that a simple, honest and local approach gives the best results."
While Robe Town Brewery has been commercially producing beers since 2013, they have only been brewing and bottling at the rustic, wood-fired brewery in Robe since May and are now opening the doors to the public for the first time.
"Visitors at the brewery can meet and talk to the brewer, check out the wood-fired kettle and rustic brewhouse, sample five different ales and get plenty of tips as to what to see and do in and around Robe," said Biezaitis.
"Our brewery cellar door has a few bar stools and a couple of cosy seats for people to sit back and enjoy a beer in good company."
Robe Town Brewery has two regular ales, a pale and the popular dark and malty amber ale, with some new small-batch beers on the horizon.
"We are releasing our new Shipwreck Stout next week, which will soon be followed by a strong Baltic porter, both of which we think will be hits," said Biezaitis.
Coinciding with the weekend of Robe's 2nd annual Home Brew and Craft Beer Festival (22 August), the new brewery will open its doors on 23 August with all-day beer sampling, a gourmet wood-grilled food tent, live music (weather permitting) and toasted marshmallows.