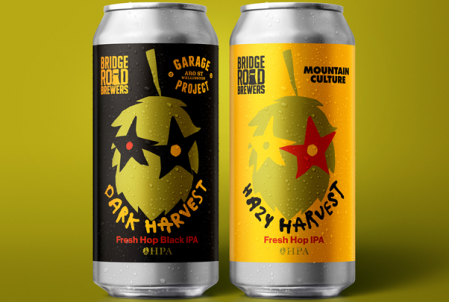 With their High Country Hop harvest event kicking off on April 2 Bridge Road Brewers have announced they've teamed up with Mountain Culture and Garage Project on their annual fresh hop IPAs that will debut at the festival.
In partnership with Hop Products Australia (HPA), the two beers feature freshly harvested hops from HPA's Rostrevor Hop Garden near Bridge Road's home in Beechworth which were added to the brew within six hours of being picked.
Following on from last year's fresh hop IPA being a hazy, the 2022 Hazy Harvest sees Bridge Road collaborate with DJ McCready of Katoomba brewery Mountain Culture. It features a higher level of protein from malted oats and chit malt as well as Bridge Road's first use of yeast from Bluestone yeast in Melbourne.
Meanwhile, on their Dark Harvest fresh hop Black IPA that was first released back in 2012, Bridge Road have called in Garage Project from New Zealand. Bridge Road said it's a subtle but punchy Black IPA thanks to a big malt base and generous hop regime.
HPA's head of sales and marketing Owen Johnston said: "Aussie brewers are making great beer year-round, but there's something special about fresh hop beers. They're only available once a year for a limited time, and beer drinkers should be jumping at the chance to try them.
"In an industry where most brewers are pumping out one or two top sellers' week in week out, it's great to give Aussie brewers the excuse to slow down, do something different and test their skills."
Alongside hosts Bridge Road, Garage Project and Mountain Culture will be showcasing these beers and others at the High Country Hop where attendees can also sample product from Sailors Grave, Dollar Bill, Love Shack, Bright Brewery, Mitta Mitta Brewing, King River and Billson's.
The High Country Hop is on April 2 at the Beechworth Historic Precinct from 11.30am to 9pm. Head here for tickets – which include a festival glass and four tasting tokens.