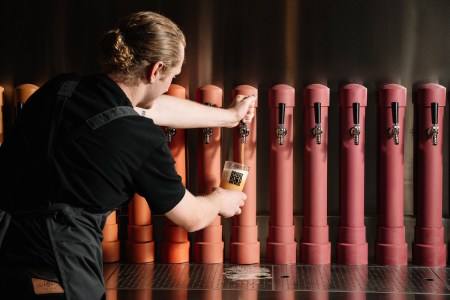 Born in Beechworth, brewing in Brunswick, Bridge Road Brewers is now open in Melbourne.
A vision many years in the making, the new Brunswick East venue delivers a bold new direction from the brewery's rustic, High Country roots. This 350-seat brewery and dining hall is a breezy, vibrant and modern take on a beer hall, smack-bang in the heartland of Australian craft beer. Styled with creative collaboration front and centre, modern op-art art by local artist D.R.E.Z. adorns the multiple dining spaces in a vibrant expression that is dazzling and new-wave, yet retains the Bridge Road Brewers charm.
Head chef Jabili Mchawala has crafted an ingredients-led modern Australian menu, with one eye on the flavours of foreign cultures and the other on the produce of Bridge Road Brewers' home in North East Victoria. There's a nod to the classic pizzas and soft pretzels (using founder Maria's authentic Austrian recipe) of the sister venue in Beechworth, and a kids offering that breaks the bounds of traditional nuggets and chips.
At the heart of the venue is a working brewery where in-venue brewed beers fill a 30-tap bar alongside classics from the Bridge Road Brewers range. Light & Easy, Hoppy & Hazy, Dark & Malty or Sour & Fruity, all tastes are accommodated to entice everyone from the craft-beer curious to the boundary-pushing beer connoisseur.
Founders Ben and Maria Kraus said: "We have developed our vision for this venue across many years, having dreamt that we'd one day have an outpost in one of Melbourne's great food and drink neighborhoods.
"The inner north in a lot of ways is the heartland of craft beer in Australia. There's a high concentration of bars and pubs that cater to quality craft beer and a genuine passion from the public. It's an inspiring place to be amongst so many who value the craft behind the beer. We've been enjoyed on tap for years at venues in the region and there was no question in my mind to where Bridge Road Brewers would set its roots in Melbourne.
"Our approach has been to create a space that is vibrant and inviting, with quality experience at its heart. We're pouring our most popular beers and will continually be creating venue-specific beers via the in-house production brewery. In the kitchen we're genuinely excited at how the menu is going to appeal to a sophisticated, but unpretentious type of crowd."
Bridge Road Brewers has led from the front in 2023, earning accolades as both Victoria's Best Brewery Venue (Beer Cartel Australian Craft Beer Survey 2023) and Victoria's Best Craft Beer (GABS Hottest 100 Craft Beer Countdown 2023). The opening of Bridge Road Brewers Brunswick will cap off a monumental year that marks the dawn of a new era for this iconic independent brewery.
The Brunswick venue is at 137-141 Nicholson St, Brunswick East and it's open 7 days, 11am to late while the kitchen is open daily 12pm to 9pm.
This is an edited version of a media release distributed by Bridge Road Brewers.