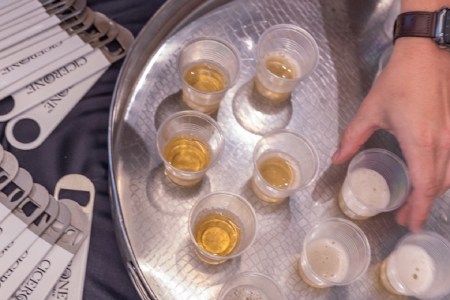 A number of in-person Certified Cicerone trainings and exams will be staged in Melbourne and Sydney in the coming months.
The itinerary gets underway with an Off Flavour Course in Melbourne on October 9 at The Local Taphouse in St Kilda. Kicking off at 1pm local time, the course features tastings of six different off-flavours, including DMS, Diacetyl, Acetaldehyde, Trans-2-Nonenal, Lightstruck and Infection.
The 1.5 hour class is designed to prepare participants for the off-flavour portion of the Certified Cicerone exam but is open to anyone of legal drinking age with interest. Register here.
Another off-flavour course will be staged at The Local Taphouse on April 8 next year while Hopsters Co-operative Brewery in Enmore will host one for Sydneysiders on October 30. Information about registering for the Sydney course will be available soon on the Cicerone website.
For those wishing to sit Certified Cicerone In-person Tasting Exams, Melbourne has two upcoming events and Sydney one.
On October 16 and again on April 22 next year, The Local Taphouse will host the Melbourne exams while Hopsters will be the place in Sydney on November 13. You can register for either of those exams here.
Meanwhile, a Cicerone Certification Program Beer Savvy Bootcamp is set to take place on January 15 next year which you can register for here.
In that four-hour class also hosted at The Local Taphouse you will, among other things, learn the difference between taste and flavour, sample different types of malt, smell hops from various nations, taste and study six foundational beer categories and understand the common variations that occur between styles as well as learn how to talk about the flavour of any beer with customers. Participants will also receive a short book of readings and resources to help them prepare for the Certified Beer Server exam.
Key dates
Melbourne:
• October 9th, 2023 – In-person Off Flavour Course
1pm, The Local Taphouse – 184 Carlisle St Kilda East

• October 16th, 2023 – Certified Cicerone In-person Tasting Exam
10am, The Local Taphouse

• January 15th, 2024 – Beersavvy Bootcamp – Certified Beer Server Level Course
11am, The Local Taphouse

• April 08th, 2024 – In-person Off Flavour Course
1pm, The Local Taphouse

• April 22nd, 2024 – Certified Cicerone In-person Tasting Exam
10am, The Local Taphouse
Sydney:
• October 30th, 2023 – In-person Off Flavour Course
10am, Hopsters 198 Enmore Road, Enmore NSW

• November 13th, 2023 – Certified Cicerone In-person Tasting Exam
10am, Hopsters