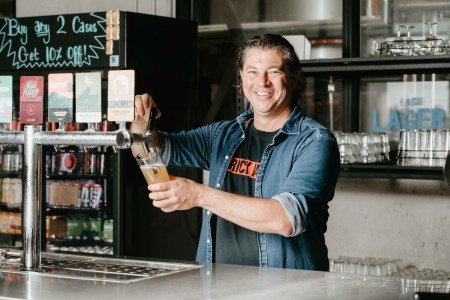 Brick Lane Brewing have announced they are undertaking a $50 million expansion that will see them boast the second largest brewing capacity of any independent brewery in Australia.
In a statement, the brewery south-east of Melbourne said it had "aspirations to provide a genuine alternative to the major international brewers, while continuing to invest in and champion the growth of quality brewing in Australia".
"Brick Lane is tremendously excited to be working with all players in the industry, including producing beers for other independent and major breweries and retailers, to grow the sector as a whole and introduce more people into great beer," founder and managing director Paul Bowker said (pictured above).
"(We) will continue to invest in capacity and capabilities to not only build a long-term sustainable brewing business, but also support the growth of independent and craft beer in Australia. We look at Brick Lane as the home of brewing in Australia where everyone is welcome."
Brick Lane already provide contract brewing services for other independent breweries and national retailers, including the Coles Liquor-owned Tinnies range.
The statement said Brick Lane will have an annual brewing capacity of around 20 million litres by December 2021, making it second only to Coopers in terms of capacity for an Australian independent brewery.
It said the first two phases of the expansion are now complete with the next phase to be completed by Christmas 2021. That stage will include the installation of a third fermentation cellar comprising 10 40,000 litre conical tanks, a new 100hl brewhouse to sit alongside the existing fully automated brewhouse, cellar automation and utility upgrades.
"As part of its investment program, Brick Lane will continue to adopt world-leading technologies in yeast propagation, fermentation management, automated liquids handling, centrifugation, high-gravity brewing, thermal storage/energy recovery and keg packaging," the statement read.
"These investments will transform Brick Lane beer production capacity providing class leading quality, consistency, efficiency and importantly flexibility to produce all types of beer, cider, seltzers and other fermented and mixed drinks. Each phase of the project will incorporate technological and engineering approaches new to the Australian beer market, with a fierce focus on sustainability and reducing energy and water requirements."
In the next six months Brick Lane said it will create more than 30 additional permanent roles in the business.
"The expansion project will also employ a number of local manufacturing businesses, with the brewery using local trades exclusively for key building works, piping and associated trades. Brick Lane also has a strong focus on supporting the Victorian and Australian economies through its procurement strategy that focuses on local ingredients and materials. Brick Lane currently sources 98 per cent of their ingredients from Victorian producers and businesses."