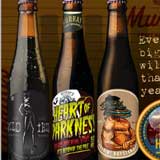 The increasingly inaccurately named Murray's Dark Beer Month (which is actually two months long…) is shaping up to be a corker this year, with a range of great winter brews announced.
Through June and July this year, Murray's will be releasing four dark beers, and will feature dark beer-inspired cuisine at the restaurant, and some special events at a range of craft beer venues around the country.
The beers, as described by Murray's are:
Murray's 'Wild Thing' Imperial Stout in the bottle.
This is a massive, intense drinking experience inspired by the great stouts favoured by the Russian Imperial Court. The colour is intensely black. The flavour is an intense hit of mocha with some malt sweetness but an aggressive hop bitterness and roast grain bite to balance. 10% ABV.
Shawn's Fault India Black Ale on draught.
This is an out-there beer and a lot of fun! Inspired by the emerging India Black Ale style, this is a full flavoured IPA brewed using dark malts. The result is a great blend of big hop flavour and aroma with the strong dark chocolate, almost coffee-like flavours. If you like big flavours and something a bit different, you'll love Shawn's Fault. And if you don't, then it's Shawn's fault! 7.5% ABV.
Auld Bulgin' Boysterous Bicep Imperial Stout in the bottle.
Brewed in collaboration with the Crafty Pint beer blog, this is a truly bizarre beer. Strong chocolate character underpins the beer with peaty smoked notes from the distilling malt present, especially when the beer is young. The high abv and Belgian yeast character combine to add even further complexity to the beer, before a minerally, briney finish from the mussels and oysters takes the beer in yet another direction. Rich, complex and fun. 10% ABV
Murray's 'Hell of the North' Strong Dark Belgio Ale in the bottle.
Brewed using a blend of Trappist ale yeasts it is a beast of a beer… in a very elegant way. Raisiny and warm from the high abv, it's a perfect winter warmer. Sweet mouth filling malt up front with a remarkably dry finish for a beer of this size. Enjoy in moderation by the fire from your best chalice glass with a selection of the finest cheeses. 11.5% ABV.
For more information, head along to the Murray's website at www.murraysbrewingco.com.au.