Goodbye astringency, hello foam!
We know that you are as serious about the art of brewing as we are about the science and technology that goes into the brewing process. At Brewmax, we are uniquely positioned to develop and deliver equipment containing technological advances that craft brewers can now afford.
As a craft brewer you understand that quality beer demands quality technology. Our technological enhancements offer craft brewers flavour control technologies that major brewers use all over the world, but at an affordable price.
It starts with wet milling the malt to speed up lautering and reduce tannins in the beer, for smoother flavour. Then low-temperature decoction gelatinizes malt cells other than starch without adding more tannins, yet releasing unique malt and raw wheat flavours in malt-forward beers.
We all know that partial thermal degradation of alpha acids and LPT1 proteins is essential for bitterness and foam. However the complete degradation of around 25% of iso-humulones into harshly bitter degradation products is the usual result of high thermal stress systems.  Also old technology kettles completely degrade around 70% LPT1 foam-positive protein into useless trub in the whirlpool.
Brewmax has developed a 'Low Thermal Stress' brewhouse similar to German methods, that can achieve complete degradation of iso-humulones as low as 7%, and only 40% complete degradation of LPT1 protein, thus it is goodbye astringency, hello foam!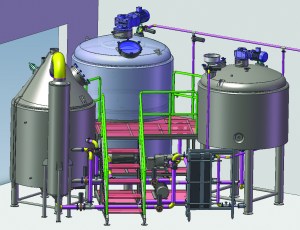 The efficient stripping of 'Unwanted Volatiles'in the kettle improves flavour and shelf life. That is best accomplished by double fan spreaders and a pumped steam calandria. Crash-cooling at knockout further reduces post-boil evolution of UVs by up to 75%.
Yeast coated with Cold Trub has a carry-over of astringent hop products, and it re-releases foam-negative free fatty acids into beer over a few hours. It also promotes acetaldehyde and SO2 production.
Over 90% of German brewers remove about 60% of Cold Trub in cool ships or flotation tanks, but USA and Australasian brewers remove only about 25% in CCV cones. Brewmax's sanitary Cool Ships will remove about 60% of CT in 12 hours.
Brewmax's new patent-protected hydro-dynamic fermenters expose about 50% more yeast bed area to a strong, predictable circular convection. This technology reduces diacetyl and acetaldehyde quickly and speeds complete fermentation.
The complete exclusion of O2 from fermented beer is essential to flavour shelf life. This can be accomplished with Brewmax's Nitrogen Generator, Hop Bomb advanced dry hopping, and Inert Gas Cloud isobaric bottling and canning lines. We package within a 99.9% Nitrogen cloud to preserve the most delicate aromas and flavours.
Brewmax specialises in state-of-the-art technologies such as:
Wet milling • De-aeration of strike & sparge water • Low temperature decoction • Faster, clearer lautering systems • Low Thermal Stress boiling systems • Advanced stripping of Unwanted Volatiles • Crash cooling at knockout • Denk whirlpool rings • Low shear zero-O2 pumping • Nitrogen generation • Cool ship trub separation • Hydro-dynamic fermentation tanks • Advanced dry hopping • Centrifuges • Zero O2 canning & bottling lines
Come and chat to us at BrewCon (Booth 107) 26 – 28 June 2018 at Australian Technology Park in Sydney.
Go to www.brewmax.net and subscribe to our 'technical newsletter' and regularly receive informative and interesting industry related studies.