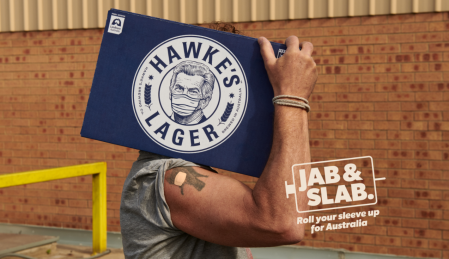 Hawke's Brewing is looking to help fast track the vaccination roll-out by offering 250 free slabs of their lager to Sydneysiders who show proof of their first vaccination.
The brewery's "Jab & Slab" campaign comes after NSW Premier Gladys Berejiklian said August should "be the month we break records and vaccinations".
But the Marrickville-based brewery, that was founded by Nathan Lennon and David Gibson, and with the backing of the late Prime Minister Bob Hawke, think the roll-out needs a shot in the arm.
"We should have been breaking vaccination records months ago. But apparently it wasn't a race and now half the country has been impacted by lockdown again. If Bob [Hawke] was still with us and calling the shots, we'd be well on the way," David said. "The longer this [lockdown] drags on, the more damage is suffered by small businesses like ours, and in particular our hospitality mates. Now, it seems the onus is on us to get ourselves out of this mess. And let's be honest, there's nothing like free beer to get Aussies going. We may not move the needle much with 250 slabs but we can do our bit by helping to strengthen the message – roll your sleeve up for yourself, your loved ones, your community and your country."
Residents of Greater Sydney only, who are interested in getting their Jab & Slab underway, can start by posting a photo of themselves with their freshly-jabbed, band-aid stamped arm following their vaccination, tag @hawkesbrewingco and #jabandslab.
How it works:
Book in for your first vaccination at your nearest eligible healthcare provider.
Once you've received your first jab, post a photo showing your freshly-jabbed, band-aid stamped arm and tag @hawkesbrewingco and #jabandslab
If you're one of the first 250 to post and tag, Hawke's will DM you with further details on how you can get your hands on your slab via contactless delivery (dropped off within two weeks). You'll need to send proof of vaccination and legal drinking age when Hawke's reaches out.
*Proof of your COVID-19 vaccination is recorded on your immunisation history statement after you've had your vaccine. You can get this through: your Medicare online account, the Express Plus Medicare app, the Australian Immunisation Register or; My Health Record.