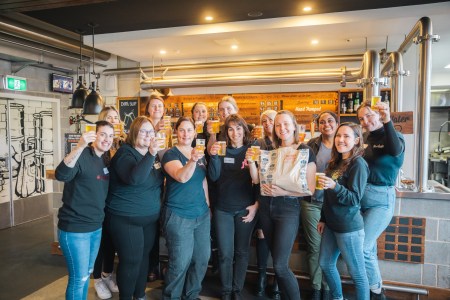 Following a Pink Boots Society of Australia brew day at their Braddon brewpub, Canberra's BentSpoke Brewing will this Thursday launch a new beer called Marion – named after the often overlooked female architect who helped shape Australia's capital city.
The as yet unannounced style of beer uses the official Yakima Chief Pink Boots Society Hop Blend which consists of Cashmere, Ahtanum, Citra, Loral and Sabro to create a blend with tropical, herbal, citrus and woody aromatic qualities.
Women feature heavily in the BentSpoke team, including co-owner and brewer Tracy Margrain, and the Canberra brewery were joined by Pink Boots members earlier in July to create a beer that would celebrate and highlight the contribution of women in the industries in which they operate.
"This beer celebrates the lesser-known contributions of women," Tracy (pictured below) said. "With that in mind, we've decided to name the beer Marion, after Marion Mahony Griffin, the architect who helped shape Canberra, but is often forgotten in the city's narrative."
Walter Griffin, Marion's husband, is the man widely credited for designing Canberra, but it was only much later determined that his wife had actually played a key role in those plans. Her 16 drawings, submitted in 1911 to a competition to design the city, were signed by Walter but once they were named the winners Marion distanced herself from the accolades, allowing her husband to take the credit – which was common practice at that time.
To officially roll out the new, tap only beer, BentSpoke are holding a Marion launch party at the Braddon brewpub this Thursday (August 5) from 4.30pm to 6.30pm. A percentage from the sales of Marion will be going straight back to Pink Boots to fund scholarships for their members to help further their careers.
The Pink Boots Society is an international not for profit organisation for women and non-binary people in the fermentation industry, with a purpose to assist, inspire and encourage through education. Founded in 2007 by Teri Fahrendorf, Pink Boots provides scholarships, mentorship programs and networking opportunities for its members. If you are a part of the industry and would like to get involved, head to Pink Boots Australia's Facebook page.