Craft breweries across New South Wales have joined the Forest Pulse campaign.
Working with HalfCut Inc, breweries in Sydney and Newcastle are hoping to raise money through beer sales throughout the month of August.
HalfCut is an organisation that encourages supporters to shave off half their beard and moustache to highlight the loss of half the world's rainforest.
Every dollar raised through the 'karma keg' initiative will go towards the Rainforest Trust, a global organisation that has saved over 22 million acres of rainforests worldwide so far, including the Daintree and Atherton Tablelands in Queensland.
"We're trying to be the Movember for the environment, with 100 percent of the funds going to rainforest protection," says James Stanton-Cooke, co-founder of HalfCut. "We hope thousands of Australians will take part. If there are no rainforests, there's no water, there's no beer. They are our rivers in the sky."
In addition, every dollar that is raised will be match by the SAVES Challenge Rainforest Trust, up to $50 million globally. It takes $2.50 to save one acre of rainforest.
"It's pretty simple, protecting rainforests gives us better rain cycles and a better climate, therefore better and more dependable agriproducts with which to make great beer," explains Mike Clarke, founder of Sauce Brewing Co. "We're thrilled to be supporting this tangible campaign."
Clarke will be 'going HalfCut' himself on Friday 30 August, streamed live from the brewery, if his funding target of $5,000 is reached.
Other supporters are encouraged to go HalfCut as well on 31 August. According to Stanton-Cooke, every person who cuts their beard in half on 31 August will get a free beer.
The following breweries and venues have committed to putting on karma kegs, with more expected to follow: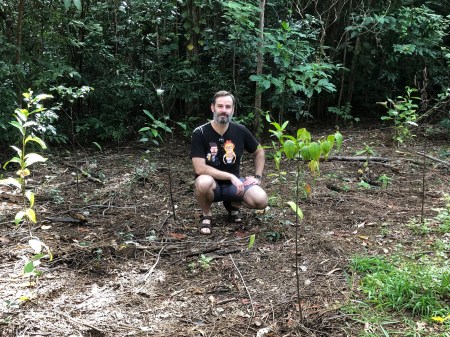 Breweries
Sauce Brewing Co
Young Henrys
Grifter Brewing Co
Yullis Brews
Willie the Boatman
Batch Brewing Co
Foghorn, Newcastle
Venues
Beer Barrel
Zero Fox
Suburban Social
Mongrel
Sacchromyces Beer Cafe
The Scratch Bar
Bloodhound Corner Bar & Kitchen
The Burrow West End
Tipplers Tap Southbank
Hippo Bottle & Bar