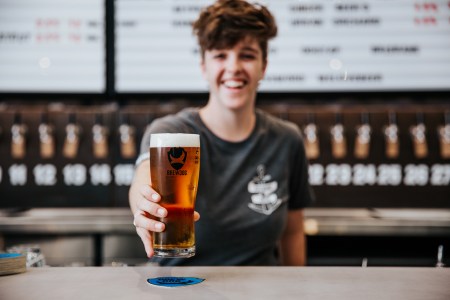 Scottish beer brand BrewDog want to launch multiple Australian venues before the end of next year as part of a wider global growth strategy. Currently they are looking for a second Brisbane site and all-new ones in Sydney and Melbourne but they said a more nationwide presence in the coming years was also on the cards.
Currently operational in more than 80 countries, BrewDog said its Australian expansion plans were part of the company's "ambitious" international growth strategy, where they hope to secure an additional 25 sites worldwide in the coming months.
BrewDog's reach touched down in Australia for the first time in November last year via the opening of its DogTap taproom on the banks of the Brisbane River. It began brewing the company's flagship beers at that site in August.
Their head of Australian operations Calvin McDonald told Beer & Brewer their long-term plan was to be "a major player in the Australian craft beer scene" as they began the search for the new sites.
Calvin said they had sold three times as much beer on tap in their "regularly booked-out" Brisbane venue than they had first envisaged. This was one of the key reasons why they were now looking to expand their footprint here with sites between 300 and 1000 square metres in size.
"We want to be a major player in the Australian craft beer scene and the fact we want to open three more bars within the next year is a sign of that," he said.
"We might be talking about Brisbane, Sydney and Melbourne right now but further down the road Adelaide and Perth are on the cards, and then potentially Newcastle and Cairns. Everything really is on the table. Our bars in the UK drive distribution while our sales across South Korea for example went up quickly once we opened our venue in Seoul.
"Because we're looking after the Australian distribution ourselves it's going to be a slow build. But one of the best ways of getting our beer out there is showcasing it ourselves in our bars, so that's exactly what we want to do."
Calvin said if the right location in Sydney or Melbourne presented itself they would be open to brewing beers on site as well as operating a taproom. But this was less important than finding well-suited taproom locations as the company currently feels they have enough capacity at their Brisbane brewery to cover demand.
"We are open to it (operating another brewery) but the most important thing right now is getting our name out there and our beer out there and replicating the BrewDog bar concept that we've established worldwide," he said.
"We do lean towards a city-centre demographic (in Sydney and Melbourne) but we don't have an ideal location. We're keen to hear about as many suggestions as possible. Places with a lot of footfall and good prominence are key. Our sites are a key marketing tool for us so we want a location that gets good eyes on it."
BrewDog have engaged the commercial real estate services of Cushman & Wakefield to identify potential sites after the firm helped secure their original Brisbane location.
With their first Australian birthday approaching, BrewDog remain, despite their reach across the United Kingdom and elsewhere, not widely known within the hospitality landscape Down Under.
However, due to the reception Brisbane has given them, and the fact they are now brewing locally, they are bullish about their expansion plans at this time.
"Ninety eight per cent of Australians have still not heard of us and we are very much at the building up process. In saying that, we're really happy with how it's going and I'm pretty confident we're on to something good here," Calvin said.
"I totally believe we've entered the Australian market at the right time as the craft beer scene here seems to grow every week and quicker than in other parts of the developed world.
"We're confident we're right on the cusp of the wave as an industry here, and it's exciting to be part of that."