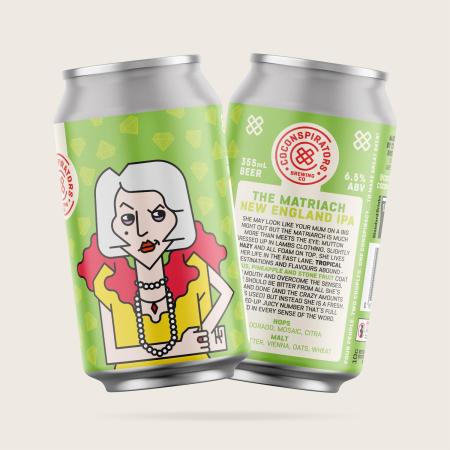 Melbourne's CoConspirators Brewing have unveiled a new look logo they hope will usher in a new era for the company as they await the opening of their 195 seat brewpub.
Founded by two couples – Jacqui Sacco and Tim Martin, and Maggie and Deon Smit – in December 2016, the Brunswick team have also uncovered a new website and merchandise range.
CoConspirators said they decided to change the company logo as it "best suits the current design" of their family of characters that adorn their beer labels – such as The Matriarch (pictured above), The Beancounter and The Butcher.
"The new logo has been designed to bring CoConspirators into their next phase of their expansion… to coincide with the brewery's new 195-seater brewpub, to be built in Brunswick, Victoria. The brewpub is currently scheduled to open in 2021," they said in a statement.
CoConspirators' designer Clint Weaver, who Beer & Brewer spoke with recently about can design, said: "The beauty of the CoConspirators brand is that with each new release, the brand and family of characters grows stronger and more intertwined. In revisiting the logo, I wanted to express this sense of familial connection and the bond shared by the characters. Much like the bond people form over a few beers. The X figure in the middle represents the four owners of the brewery coming together; together to the place where X marks the spot, towards the mystery of the unknown represented by X, always encompassed by the conspiracy!"