Bottles have flown the Two Birds Brewing nest for good, with the Melbourne brewery's core range to be released in new-look cans only from now on. The newest member of the Fermentum flock has also brought Stone & Wood's The Gatherer wheat beer under their wing henceforth as well, where it will be brewed and canned at their Spotswood home and feature their company logo.
The permanent move into cans follows Two Birds discovering bottles were the preferred packaging format of just 19 per cent of surveyed customers (40 per cent preferred cans while the rest would purchase in either) when they conducted an online questionnaire last year. After a decade of selling beer in bottles, but increasingly so alongside cans, co-founder Danielle Allen told Beer & Brewer it was clearly time for Australia's first female founded brewing company to completely move on.
"The survey affirmed a lot of the things we were already thinking but we were sitting on the fence about," Danielle said. "We were probably holding on to bottles because of our connections in the export market and they always seemed to want our beer in bottles… But then COVID comes along and the export market doesn't really have a whole lot going on with it. (The survey's results) were confirmation to us that cans weren't going anywhere.
"We were doing our limited releases in 500ml glass and we were struggling to get cut through. The beers were amazing and they hit that pointy end of the market but there was that push-back from retailers that bottles just don't sell. We put out limited releases in 375ml cans for the first time during COVID and that also confirmed, that if we wanted to be serious about our future growth and our volume, we'd need to make the move fulltime into cans."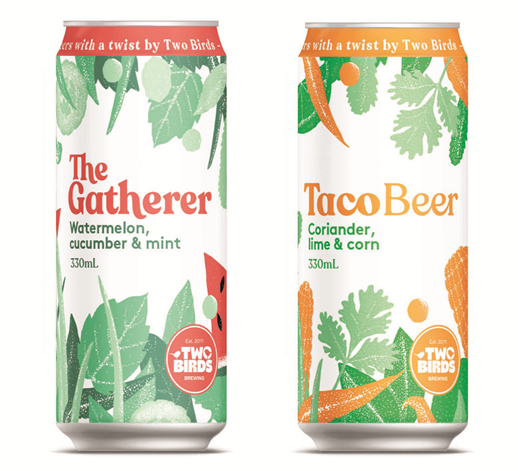 Two Birds' re-imagined core range of the Summer Ale, Sunset Ale and Pale Ale are available in 375ml cans nationally in select retailers from the middle of this month while their popular Taco Beer will trail soon after in the same 330ml sleek cans The Gatherer will come in also. These latter two beers will form part of Two Birds' new "Beers with a Twist" range while their two Chirpy hard seltzer flavours – watermelon and mango – will be the starting point of a new "Near Beer" range which in the future will be accompanied by other non-beer alcoholic beverages. Danielle said the "Passion Victim" name of their 2017 released Summer Ale had been removed to create a more cohesive feel of their core range while she said the word "victim" had negative connotations in a "changed world".
Meanwhile, Two Birds' former core range Apple Cider has been discontinued as part of a broader Fermentum portfolio decision to focus on just the one cider – Granite Belt's Treehouse Cider.
"Taco has always been out there on its own and it's been popular and all the rest but retailers don't know what to do with it or where to put it," Danielle said. "So we figured that if we can build a story around it, in combination with The Gatherer in the Beers with a Twist range, it can heighten its identity.
"(The decision for us to adopt The Gatherer) was probably twofold: one, the brand fits; and second it's the economies of scale involved – Spotswood is a smaller brewery so it's better suited to brewing and packing that beer in the Fermentum network of breweries.
"I'm feeling really positive about this being a good refresh point and with Fermentum with us and behind us I think the brand will see its true potential. Even though we are 10 years old, I'm feeling quite young and fresh again."
Two Birds Brewing are at 136 Hall Street Spotswood VIC 3015