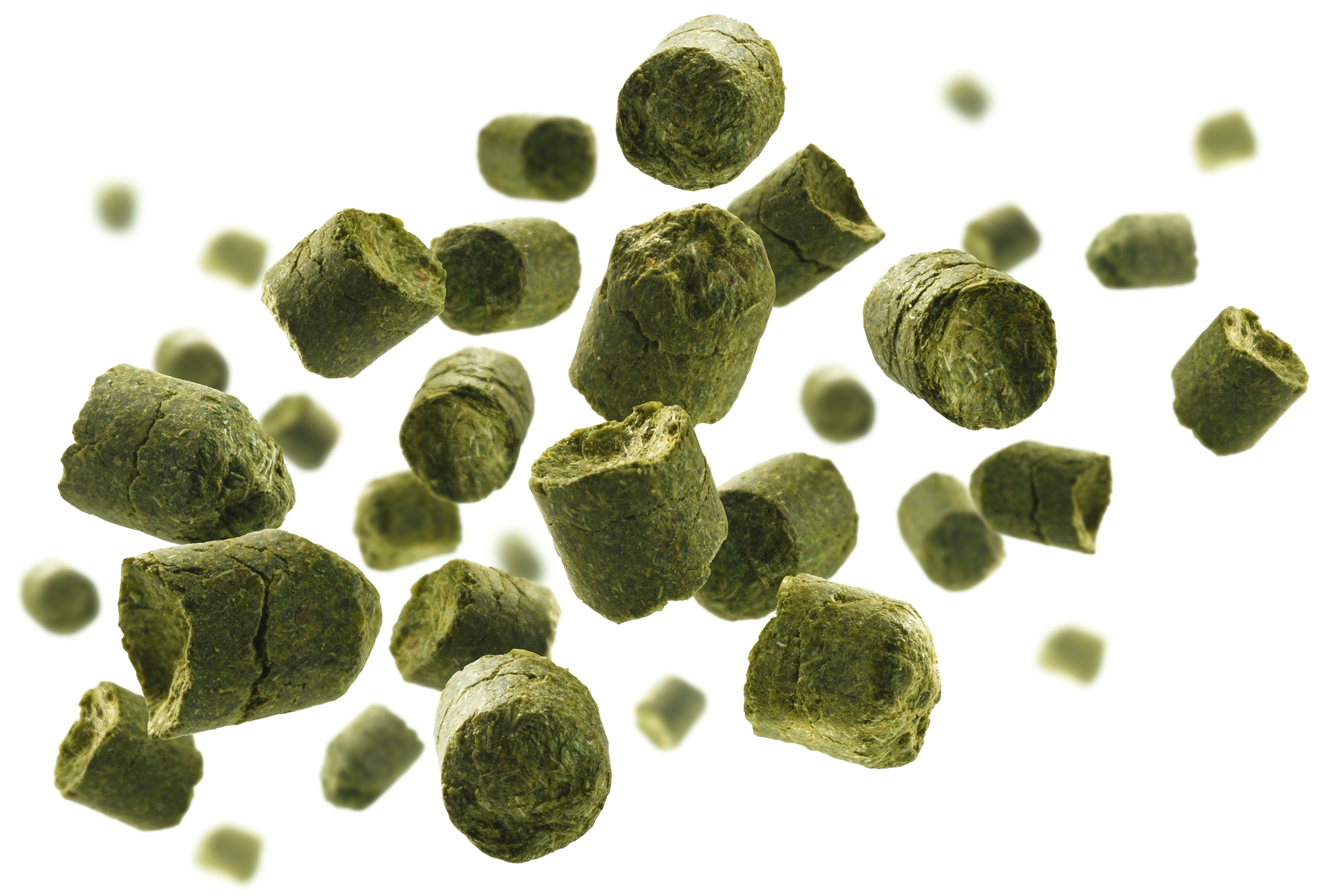 The emergence of a new approach to blended hop pellets is changing the playing field worldwide – if brewers can get hold of it that is. By Adam Carswell.
Innovation, quality, variety, awesomeness. They're all words that can comfortably be associated with the Aussie craft beer juggernaut. We're so spoiled for choice right now that we've come to barely blink an eye at the amount of ground-breaking stuff that goes on daily in breweries and at their suppliers across the nation.
The revolution has almost been normalised, so to speak.
Occasionally, however, something emerges that's so "out there", in a commercial sense, that its mere presence on the market is almost impossible to ignore.
Take the spankingly new Cryo Hop* blend from industry-dominating American hop supplier Yakima Chief Hops (YCH) – Cryo Pop Original Blend – for example, which is currently taking the global brewing world by storm, with Australian brewers front and centre as part of the action.
*For the uninitiated, Cryo Hops are a YCH innovation, launched in 2017, produced via a cryogenic hop-processing technology that separates whole hop cones into two components – concentrated lupulin (the good stuff) and bract (the leafage).
Cryo Pop Original Blend takes this method to another level by using high-end laboratory analysis to find formerly undetectable aromatic hop components, then pinpoints those components with the best potential of coming through in finished beers.
The inside information
YCH's director of sales in North America, Spencer Tielkemeier (pictured), was right in the thick of it when Cryo Pop discreetly emerged from the laboratory of Yakima's director of research and development, Pat Jensen, who'd been doing some novel research on beer-soluble compounds for a few years prior to the first blend iteration.
"The blend started as a very quiet beta project," Spencer explained. "Most of that research was out of the limelight until we began discussing a very compelling graph during one of our monthly meetings (that graph being a predecessor of Yakima's Survivables Chart, which depicts the soluble hop compounds that best survive the brewing process).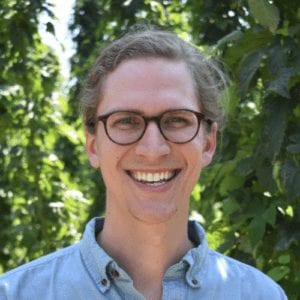 "We came up with the idea of producing a small run of a blend to try to maximise what the graph was showing us from a beer-soluble compounds perspective.
"I often joke that the first blend was a product of our hubris, trying to beat that graph. We produced about 4,000lbs (a bit over 1,800kg) and trialled it quietly with a number of brewers. The blend's performance in beer, coupled with brewer response to the graph, and research schema behind the blend, let us know we were on to something good. The product took on a life of its own from there."
While Spencer is quick to underline that Yakima is "very interested in being transparent", he's currently staying mum about the actual makeup of the Cryo Pop blend, and goes further in pointing out that the different individual hop percentages may not matter as much as you'd think.
"We may share the varieties in the future, but for now we've decided not to," he said. "It's important that brewers understand that this blend is designed with flavour profile and chemical performance in mind, not specific varieties. Therefore the blend may change year-over-year from a variety perspective.
"Our target will always revolve around a specific profile, not specific varieties, (and) I actually view (that) as a significant advantage. It adds to the product's stability, as we're not as dependent on an individual variety and therefore not as subject to the ups and downs of different harvest years."
Local brewers blown away
A trio of domestic breweries that jumped on the Cryo Pop experience early – all with solid and well-deserved reputations for pushing the envelope – are locked-down Victorian superstars Deeds Brewing and Mr. Banks Brewing Co., along with WA upstarts Beerfarm.
"I remember we cracked the sample packs (we'd been given) as we were sitting there at the end of the day on a Friday. We all smelled it and we were like 'OK, we can see what they're trying to do here'," Deeds' head brewer Justin Corbitt recalled. "The name pretty much sums it up – it just popped right out of the bag. It is punchy. It is pungent. It's like massive, massive, massive sweet citrusy fruits, like pineapple and peach… and again, it's massively punchy.
"So we went back to Yakima and said we'd be interested in trying to brew with it – we'd like to have a play. We'd already been putting together a concept for a beer called But Wait, There's More!, which was kind of a play on those old infomercials – the idea of 'if you're going to buy this, you have to buy within the next 10 minutes and you'll get a free set of steak knives'.
"We thought we'd love to juggle the hops around and use Cryo Pop as the primary hop in that, and see what happens on a larger scale when we brew with it. It's a funny idea which we thought was going to go really well, and the guys at Yakima were all on board with it because they got it – they knew what we were trying to do. They got the joke."
Chris Farmer, Mr. Banks' founder and head brewer said his ears pricked up on news of the new Yakima blend, as he admits to a predilection for "anything new", and likes to be an early adopter of innovative products if and when he can get his hands on them.
"We use a lot of Cryo Hops here because we really like what they do for the beers, so when the boys at YCH told us that they were (releasing) this awesome new blend (but they wouldn't tell us the composition), we thought 'let's give this one a shot'.
"Personally, I do feel like there's quite a bit of either Talus or Sabro (hops) involved, because I get a lot of the characteristics that those two (usually) bring up – it's something about the mouthfeel, like a textural sort of thing, that some other hops don't really give. It's pretty intense, really pungent.
"We used it mainly as a dry hop, but we also used it in the whirlpool. As soon as we put it in the whirlpool it was a very, very full-on mix of tropical, and citrus, and dankness and everything. It was like 'yeah, there's a lot to unpack in that'."
Likewise, Josh Thomas, head brewer across the Nullarbor at Beerfarm, said when offered the "hopportunity" to try a new, premium product from his pals at Yakima Chief, he "didn't think about it twice".
"We haven't used a lot of Cryo Hops in our time, so the motivation was strong to use it in an upcoming Big Hazy," he said. "I think, given the nature of the beast, it definitely leans towards the IPA style, especially if it's selected as the star of the show, (and) I think it would complement a lot of hop-driven styles when used appropriately. They're certainly great to use for that final shine."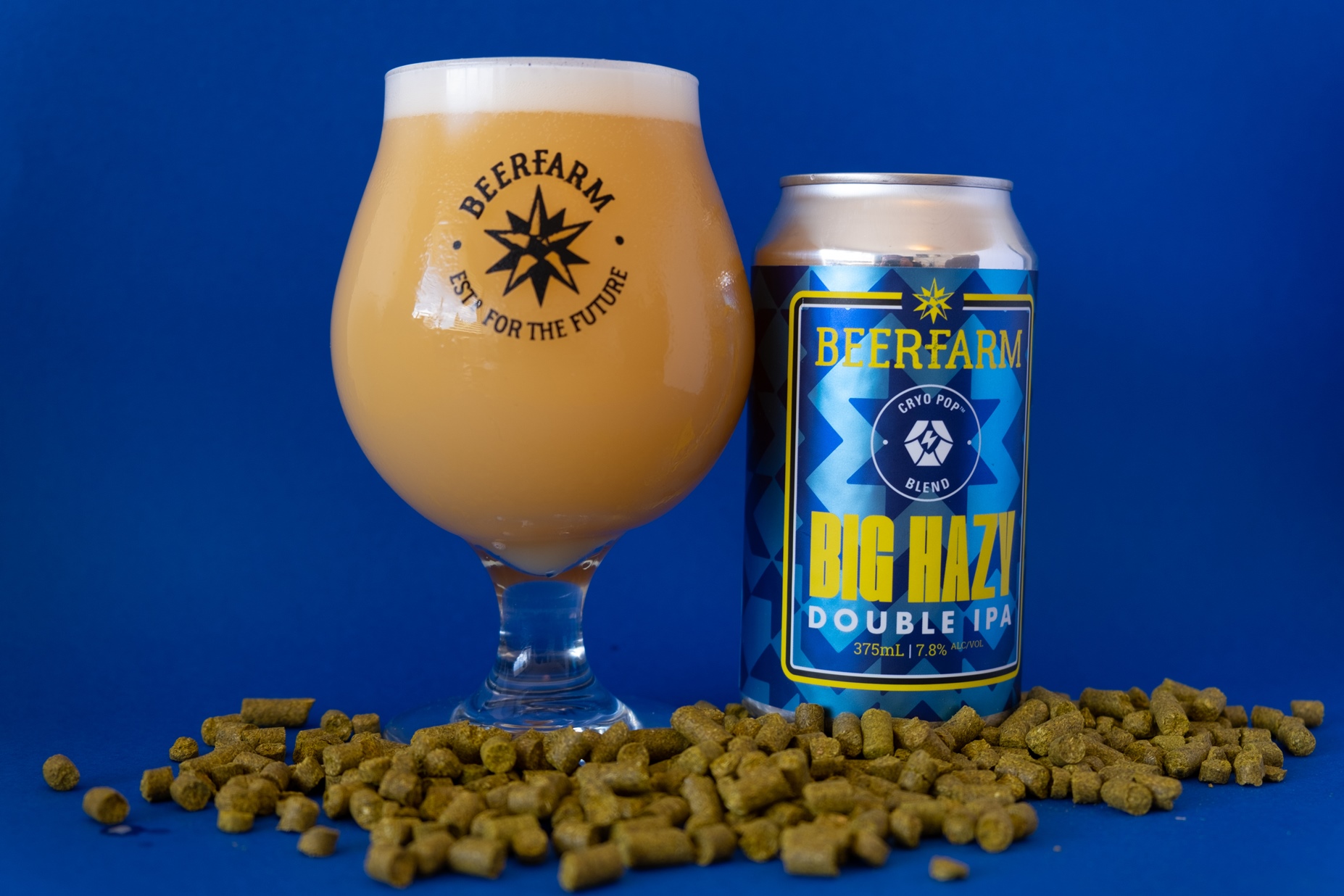 The beers are flying off the shelves
If you're keen on trying Justin's brainchild, the But Wait, There's More! Hazy DIPA (9.0% ABV), you'll be disappointed to know that, actually, there isn't any more, as a quick check of Deeds' online store seems to suggest anyway. Nevertheless, he described the fruits of his labour as coming out "like a treat".
"We were over the moon," he said. "You've got a bigger body, and you've got a sweetness and the fruit from the hops that really just makes it pop. It just kind of accentuated the whole thing.
"We did mix it with standard hop pellets (as well) – we didn't do 100 per cent Cryo Pop because we wanted to – I don't want to say play it safe – but we wanted to make sure that there was enough flavour in there, because we were doing something that's experimental and weren't pilot batching it.
"It's not that we were worried that the flavour wouldn't come through, but you're always like, 'we've never used this before, we don't know how it's going to behave and what the end result is going to be', regardless of how much literature you read about it.
"We're pretty impressed with it. Upon packaging the beer and trying it from the can and from a glass – we immediately went back to Yakima to ask them to share some more volume, so that we can potentially play with it in some different formats."
In fear of being the bearer of more bad news, Mr. Banks' "one-time brew", Don't Push Me DDH DIPA (8.0% ABV), seems to have been drunk off the face of the planet too.
"The feedback's been really, really good – we sold out of it super quick and we've got a lot of people asking if we'll rebrew it," Chris said. "The feedback that we got, people seem to be absolutely loving it – it's just like an explosion of fruit in your face.
"We brew a lot of double IPAs, so we knew it was going to work. We did add some T-90 (hop pellets) to this one as well. I suppose it was just when we've tried to brew with 100 per cent Cryo Hops in the past, they haven't really (turned out) the way that we love them (to be). We feel like the 100 per cent Cryo beers always tend to be missing something, like a bit of backbone and a bit of depth."
Beerfarm's new contender, the Big Hazy Cryo Pop Double IPA (7.8% ABV), has gotten Josh appropriately besotted as well, with him describing the results "like that of a fruit salad – juicy mango, passionfruit, pineapple, papaya and even a hint of coconut".
"It's definitely got some punch!" he enthused. "The Cryo Pop brings all the other elements of the beer together, complementing the use of our hazy yeast strain with those oils sticking to the yeast like glue.
"The Cryo Pop not only packs a punch of flavour, but the concentrated alpha and beta acids, along with the high amount of oils, meant we had to be clever as to how and when we used them. We focussed on small additions on the hot side, adding controlled amounts into the whirlpool to achieve the desired bitterness without it shooting through the roof and throwing the beer out of balance.
"We were then able to dry hop at a much lower rate with the Cryo Pop, blending with some T-90 pellets to ensure we didn't have too many oils suspended in the finished product. We wanted it to be dank, but we didn't want it to be like chewing on a hop pellet. Balance is key."
Demand outstrips supply, for now
Yakima, at this point in time, are somewhat victims of Cryo Pop's success, with Spencer regretfully announcing "we've been sold out for several months now, and hope to get back in stock in the next month as fresh bales are arriving".
"We're really pushing the limits of our Cryo Hops plant, and will have to navigate what continued success of the product will look like if it keeps going at this pace. We're more than doubling our production this year. A few months ago that seemed like plenty, now I'm worried it won't be enough!
"(It's) a good problem to have, but one that we'll need to tackle soon."
Pressed on the secrets to Cryo Pop's success, Spencer's opinion is that while "the blend has tremendous performance in beer… what's caused it to be truly successful is the novel research framework that surrounds it".
"It's very user-friendly, which I believe is one of its best qualities. So far it seems it can be used anywhere, anytime, and in any quantity with great results," he said. "The most exquisite flavour contributions so far, in my opinion, have come from large doses of active-fermentation dry hop additions – it's where the pineapple, peach, orange (flavours) really sing.
"We're really flipping the script with Cryo Pop, as it's being produced with the absolute freshest, highest impact bales we have. You'd be hard pressed to find a more premium, intentionally-designed product.
"I (also) strongly feel it represents a paradigm shift in brewer thought, from raw hop aromatics to individual compound solubility. It's marvelous to be a part of."