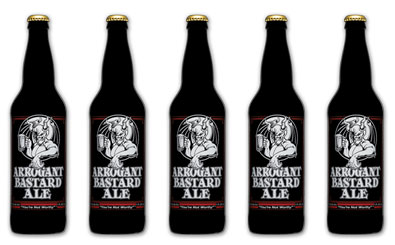 In what appears to be a clever marketing strategy, Stone Brewing Co. has pushed Arrogant Bastard out of 'the family', forcing it out 'on the road' for a global tour, which includes Australia.
Stone Brewing co-founders Greg Koch and Steve Wagner are seen in a quirky video telling Arrogant Bastard Ale that "your reputation doesn't reflect well on the family" and that it's time for the beer to "go out on its own and find yourself" to which the arrogant little devil responds with the ominous line, "you'll regret this".
Stone Brewing has selected a handful of breweries across the world for Arrogant Bastard to "shack up with temporarily" including the likes of BrewDog in Scotland, Maui Brewing Co. in Hawaii and Bootleg Brewery here in Australia.
The Western Australian brewery mashed in Arrogant Bastard at 6AM on Tuesday and will sell it exclusively on-tap at the brewery from 4 March.
"Bootleg is stoked to have been chosen and as you will see we are in company of some great breweries," Bootleg Brewery GM Michael Brookes told Beer & Brewer.
Fortuitously, Brookes took Koch mountain biking in the forests of Margaret River and a couple of months later he asked if Bootleg would like to participate in road.arrogantbastard.com.
The opportunity came with some restrictions, the recipe was not to be shared, it could only be sold on-tap at the brewery (no takeaways) and Brookes was not allowed to tell anyone about it outside those involved in the brew.
"Check us on Facebook as we go through this exciting project," Brookes said.
"We have the bastard on-tap at Bootleg from the 4th March until he leaves (runs out) or gets chased out by a raging bull."
Check out the quirky video below: