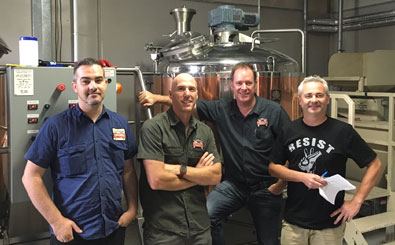 Victoria's Hawthorn Brewery has released its second 'Brewshed Collection' beer, called Hawthorn Summer Witbier.
The Belgian-style white beer with a 'spice twist' is made from a combination of wheat and rolled oats, and is unfiltered resulting in a cloudy pale straw appearance.
"We released a witbier in bottles in 2011 that went pretty well, however Hamish Reed (our chief brewing officer) was in India in December and it re-sparked his interest in beer and spices, especially cardamom, which features heavily in Indian cuisine," Hawthorn MD Peter Willis told Beer & Brewer.
"Given it's summer in Australia, a Summer Witbier seemed a logical choice but we wanted to pack more into a standard witbier."
Hawthorn Summer Witbier is crafted with an United Nations collection of ingredients – coriander seeds and cardamom pods from India, bitter orange peel from Belgium, lemon rind from the Mornington Peninsula and hops and malts from Germany.
"It's a spin on a classic style. Adding more spices (cardamom and coriander), lemon and orange rind really gives it a distinct citrus zest and makes it more refreshing," Willis said.
The result is a 4.7 per cent ABV beer, with a complex spicy, fruit flavour, low bitterness and a dry, refreshing finish. It is a great match with seafood, white meats and anything spicy.
The Brewshed Collection is Hawthorn's "fun brews" and they reflect what's happening in the market at the time.
"We'll be doing our third Brewshed Collection in May (partially to coincide with GABS). This one will have a distinctive Indian tilt and may even be a collaboration with a local craft brewery in Mumbai," Willis said.
"Our fourth will be later in the year and will be a darker style (my personal choice would be a porter or similar), but this will depend on timing, it might be delayed and then turn into a nice spring Kolsch or similar.
"Hamish has a raft of recipes ready to go, so we have plenty of options, who knows we may even throw it out to our supporters to vote for what they want the fourth instalment to be."
Hawthorn Summer Witbier will be launched at the Great Australian Beer Festival this weekend.