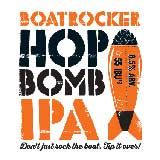 Melbourne-based brewer Matt Houghton has inked a distribution deal with ExperienceIt that will see the Boatrocker craft beer range available around Australia in the coming weeks.
Boatrocker kicked off in 2012, with Matt and wife Andrea getting all the gear together to start operating. In 2013, they moved to new premises in south-east Melbourne, and are now evidently quite pleased that their beer will get nationwide distribution.
Boatrocker are very excited to team up with Johnny and the rest of the crew at ExperienceIt. They have an amazing portfolio, and treat beer with the respect it deserves," Matt says. "It's this attitude and ethos to craft beer that really attracted Boatrocker, as it reflects our own commitment to the quality and respect of craft beer. It also means the rest of Australia will be able to rock the boat with some awesomely fresh brews."
"What we love about Boatrocker is the passion that matched our own and the mix of great core range styles with a focus on experimentation that will see a range of barrel aged beers and experimental limited releases in the pipeline," added Johnny from ExperienceIt.
The first brews on shelves will be the Boatrocker Alpha Queen, a 'highly hopped' ale; the Hop Bomb IPA; and Smash!, a new world hop ale. In addition, Boatrocker will be releasing a range of barrel-aged and small batch experimental beers in the coming months.
For more information, check out the Boatrocker website. For distribution and sales information, see the ExperienceIt website.