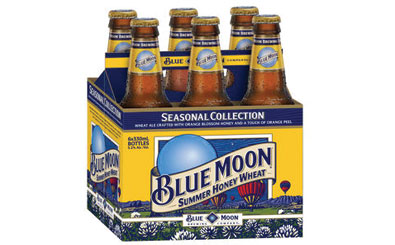 Blue Moon has launched its popular seasonal Summer Honey Wheat in Australia for the first time.
The filtered wheat ale (5.2% ABV) has subtle flavours of orange blossom honey and orange peel, which pair well with summer dishes like grilled chicken or pork with honey mustard sauce.
Summer Honey Wheat is the top-performing seasonal craft beer in the US and was also the first summer seasonal launched by Blue Moon Brewing Co. back in 1995 under the name Honey Blonde Ale.
The beer has won a swag of awards, including a gold medal in the Specialty Honey Lager or Ale category at the Great American Beer Festival (GABF) in 2006 under the name Blue Moon Honeymoon. The beer also won gold in the same category the following year, under the name Honeymoon Summer Ale.
Under the current name, it scooped a third GABF gold in 2010 and now has one of the highest seasonal sales volumes in the US, achieving 6.2 per cent growth in 2014*.
Blue Moon Summer Honey Wheat is available from Vintage Cellars and selected independent bottle shops and in Dan Murphy's from mid-February.
It is also available on tap at selected craft beer venues across Australia including Beer Deluxe (Fed Square, Melbourne and Albury), The Fox Hotel (Collingwood), The Fox on Montague (South Melbourne), Rose Diner and Bar (Port Melbourne), The Chippendale Hotel (Chippendale, Sydney), Rosie Campbell's (Surry Hills, Sydney), Buffalo Bar (Brisbane), Surfers Sand Bar (Surfers Paradise), Peak Wine Bar (Maroochydore) and Story Bridge Hotel (Kangaroo Point, Brisbane).
Blue Moon is part of the Molson Coors International portfolio and is distributed in Australia by Coca-Cola Amatil (CCA).
*Source: Nielson Trimester 2 2014, US – XAOC, case vol % change v 2013